Latest News
2023.8.22 Announcements
Foreign Minister's Commendation for FY2023 awarded to Professor Izumi Ohno
Professor Izumi Ohno, Director of the International Cooperation Concentration Course of the Public Policy Program, received a Foreign Minister's Commendation for FY2023 for her contributions to the promotion of international cooperation. The Foreign Minister's Commendations are awarded to individuals and groups with outstanding achievements in international fields, to acknowledge their contributions to the promotion of friendship between Japan and other countries and regions. This year 37 individuals and seven groups residing in Japan, and 150 individuals and 56 groups residing overseas were designated for the award. The award ceremony was held on August 22, 2023.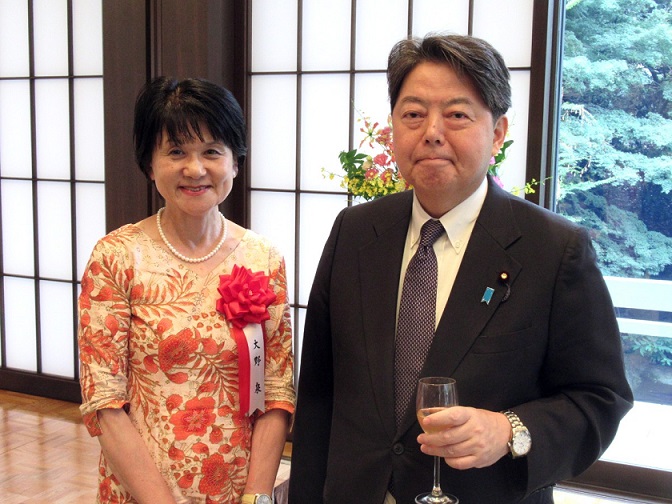 With Minister for Foreign Affairs Yoshimasa Hayashi at the award ceremony
Professor Ohno's specialties are international development policy, development cooperation, and business and development. She has been widely active in the fields of international cooperation and international development since her appointment as professor at GRIPS in 2002, including service as director of the JICA Ogata Sadako Research Institute for Peace and Development from October 2018 to September 2020. Moreover, she has played a central role in the Ethiopia-Japan Industrial Policy Dialogue since 2009, contributing to the promotion of Ethiopian industry through high-level forums and practical discussions, including direct dialogue with the then Ethiopian Prime Minister. Professor Ohno has also been active in the Japanese government, making significant contributions to the promotion of Japan's international cooperation by serving on councils and expert panels of ministries including the Ministry of Economy, Trade and Industry, the Ministry of Foreign Affairs and the Ministry of Finance. and of JICA and other organizations.
・Press Release - Foreign Minister's Commendations for FY 2023
 https://www.mofa.go.jp/press/release/press6e_000488.html
・Professor Izumi Ohno's profile
 https://www.grips.ac.jp/list/en/facultyinfo/ohno_izumi/
・GRIPS Development Forum
 https://gdforum.sakura.ne.jp/en/