Tailor-Made Short-Term Training
The Executive Development Center for Global Leadership
The Executive Development Center for Global Leadership (CGL) was established in 2013 in response to an increasing demand for short-term training for government officials, particularly for senior executives, middle management level officials and public policy professionals.
GRIPS has responded to specific requests from foreign government organizations by providing tailor-made short-term training programs matched to specific requests and necessity. By establishing CGL, GRIPS can provide various kinds of short-term training programs more proactively and systematically.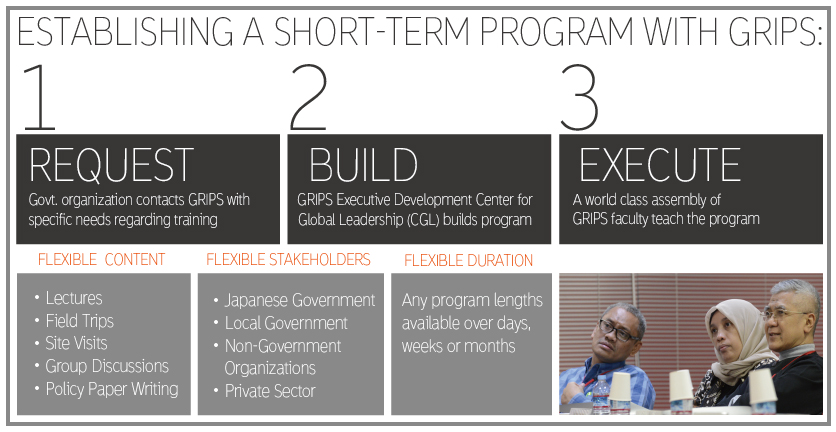 Examples of Themes
Leadership development and management in the 21st century
Public management in general
Structure and process of government
Organization management
Civil service system and human resource management
Tools of government
Legal systems and legislative review
Administrative reform and innovation
Good governance
Trust in the government
Ethics and anti-corruption
Local governance in general
Local government administration
Local government financial administration
Management of inter-governmental relations
Public Policy Analysis
Specific Substantive Policies
Components of Training Programs
In response to specific demands, the short-term training programs are composed of the following components.
Lectures (by professors from GRIPS and other universities, government officials, business executives and specialists in research institutions, etc.)
Field trips or visits to government offices and other places of interests related to themes of training
Group discussions and workshops with government officials and GRIPS students (foreign government officials)
Writing policy papers and presentations
Exchanges with people from Japan
Number of Trainees
| | |
| --- | --- |
| 2015 | 487 |
| 2014 | 347 |
| 2013 | 356 |
| 2012 | 399 |
| 2011 | 265 |
| 2010 | 459 |
| 2009 | 503 |
| 2008 | 417 |
| 2007 | 198 |