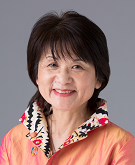 Position
Professor; Director, International Cooperation Concentration
Degree
MPA (Princeton School of Public and International Affairs (SPIA), Princeton University)
Specialty
International Development Policy, Development Cooperation, Business and Development
Current Research Interests
-International development strategies, industrial development, Japanese experiences of industrial development cooperation.
-Bridging research and policy/practice in development cooperation.
Izumi Ohno specializes in international development policy, Japanese development cooperation, industrial development cooperation, business and development. Since 2002, she has been Professor of the National Graduate Institute for Policy Studies (GRIPS). During Oct. 2018-Sept. 2020, she was Director of the Japan International Cooperation Agency (JICA) Ogata Sadako Research Institute for Peace and Development, and continues to serve as Senior Research Advisor to the JICA Ogata Research Institute. Prior to joining GRIPS, she worked at JICA, the World Bank, and the Japan Bank for International Cooperation (JBIC). She graduated from the Tsuda College (Tokyo), and holds a MPA from the Princeton School of Public and International Affairs (SPIA) at the Princeton University in USA.
Over the past years, Prof. Ohno has been engaged in a number of advisory committees in the areas of international development, economic cooperation, inclusive business, and so on. These include a member of the Advisory Panel to the Minister of Foreign Affairs on the ODA Charter Review (March-July 2014) and chair of the Advisory Committee for the Japan Inclusive Business Support Center of the Ministry of Trade and Industry (2010-2014). More recently, during the Think 20 (T20) 2019 Japan process, she served as lead Co-Chair of Task Force on 2030 Agenda for Sustainable Development and contributed to formulating policy recommendations for the G20 Osaka Summit. She also served Executive Chair of the 31st JASID (The Japan Society for International Development) Annual Conference, held on December 5-6, 2020, hosted by Tsuda University, under the theme "Time for Change: Innovation for Inclusive Society."
Since 2009, she has been engaged in JICA-supported intellectual cooperation, "Japan-Ethiopia industrial policy dialogue," which aims to share the East Asian development experiences with senior policymakers in Ethiopia. This includes a study of quality and productivity improvement in Asia and Africa (Kaizen National Movement). Furthermore, in light of increasing interface between business and development, she led a research project for "Internationalization of Japanese Small-and Medium Enterprises (SMEs)"in collaboration with an Osaka-based thinktank, the Asia-Pacific Institute of Research (APIR: 2012-2015), where she continues to serve as the Senior Research Fellow (2015-present). At the JICA Ogata Research Institute, she currently leads a Research Project on the Japanese Experience of Industrial Development and Development Cooperation (2018- present).
Her major publications include books on: Industrial Human Resource Development in Developing Countries: Knowledge and Skills in the Era of SDGs (edited with Shoko Yamada, Nippon Hyoronsha, 2021); Leave No One Behind: Time for Specifics on the Sustainable Development Goals (edited with Homi Kharas, John McArthur, Brookings Institution, 2019); From a Small Factory in Japan to a Global Firm in Asia: SME's Overseas Expansion Strategy & Policy Support (ed., Chuo-keizai Publishing Co., 2015); Eastern and Western Ideas for African Growth (edited with Kenichi Ohno, Routledge, 2013); Introduction to BOP Business: Addressing Global Challenges through Partnership (co-authored, Chuo-keizai Publishing Co., 2011); Japan's International Development Cooperation, (edited with Kazumi Goto and Toshio Watanabe, Nippon Hyoronsha, 2005); The World Bank: Toward New Development Strategies (NTT Publishing Co., 2000); and Japanese Views of Economic Development: Diverse Paths to the Market (edited with Kenichi Ohno, Routledge, 1998). 
*Please add"@grips.ac.jp" to send a message.