Events Information
2022.8.25[Thu]
"Taking Stock of RCEP Scorecard and Other Regional Economic Architectures"
GRIPS is collaborating with FPCI (Foreign Policy Community of Indonesia) in convening the FPCI-GRIPS Public Forum, a monthly webinar series where experts and policy makers can discuss the most pressing issues of international affairs and foreign policy with researchers and students across Southeast Asia and Japan.
At the 2nd forum, we will focus on "RCEP (Regional Comprehensive Economic Partnership Agreement)".
ASEAN and its five Dialogue Partners signed a historic agreement on 15 November 2020 that is known as the Regional Comprehensive Economic Partnership (RCEP). It is the biggest regional free trade agreement in the world that encompasses 30% of the world's population and contributes to 30% of the global GDP.
Although many criticized and compared RCEP to CPTPP, RCEP should be regarded as a major trading infrastructure in Asia and the Pacific. After 8 years of negotiation, RCEP can be hailed as the region's major economic advancement. It manifests the region's determination to keep the market open, make regional economic integration stronger that will greatly contribute to post pandemic recovery efforts.
Furthermore, what is the update on the implementation of RCEP after its signing? Few countries like Indonesia, the Philippines have not yet ratified it. The Philippines Foreign Affairs Secretary recently announced that his government will not accept Myanmar's Instrument of Ratification. A similar move that is adopted by New Zealand as well. Considering these recent developments, how will RCEP continue to develop in the future?
We will also compare RCEP with CPTPP and IPEF, and look at the future direction of Asia's regional economic architecture.
Please join us and watch the forum!
〇 Date and Time: Thu, August 25 2022 at 16:00-17:30(Japan time)
〇 Format of the Webinar: Zoom webinar
〇 Participation Fees: Free
〇 Language: English (Simultaneous interpretation to Japanese is available)
〇 Theme: " RCEP and Other Regional Architecture: Taking Stock of RCEP Scorecard "
〇Points to be discussed;
1. What are the updates on the implementation of RCEP?
2. RCEP and CPTPP in Indo-Pacific as a regional trade and economic infrastructure
a. Can the RCEP and the CPTPP be considered as Indo-Pacific economic infrastructure?
b. How complementary are the two agreements?
c. Both agreements' role in sustaining regional economic recovery and digital economy?
3. How do you see the function and role of regional economic frameworks in addressing the growing global food crisis and rising inflation? Does it have any impact on the effectiveness of the agreement's implementation?
4.As the Indo Pacific Economic Framework (IPEF) is still very minimum in policy details, what are your expectations and how would this framework be different compared to RCEP and CPTPP?
〇Speakers

Prof. Mie Oba, Professor of Law Department, Kanagawa University
Information will be updated once we fix the participants.
2.  Ms. Juita Mohamad, Director of Economic and Business Unit, Director of Research of Institute for Democracy and Economics Affairs Malaysia
3.  Ms. Dina Kurniasari, Director of ASEAN Negotiation at the Ministry of Trade of the Republic of Indonesia
4.  Mr. Nguyen Anh Duong,Director of the Department for General Economic Issues and Integration Studies, Central Institute for Economic Management (CIEM), Vietnam
〇Moderator
Dr. Maxensius Tri Sambodo, Researcher, National Research and Innovation Agency (BRIN)
〇How to access the webinar: (Pre-registration required)
Please register via below URL and you will receive an invitation email.
https://www.eventbrite.com/e/taking-stock-of-rcep-scorecard-and-other-regional-economic-architectures-tickets-395757831327
〇Program (Japan Time)  
16:00~16:05  Welcoming Remarks, Amb. Soemadi Brotodiningrat, Senior Fellow at FPCI
16:05~16:10  Opening Remarks, Prof.Kunihiko Shinoda, GRIPS
16:10~17:00    Moderated Discussion
17:00~17:25    Q&A Session
17:25~17:30    Closing
——————————————————-
Any questions, please contact GRIPS Alliance Administrative Office via email(grips-a.webinar@grips.ac.jp).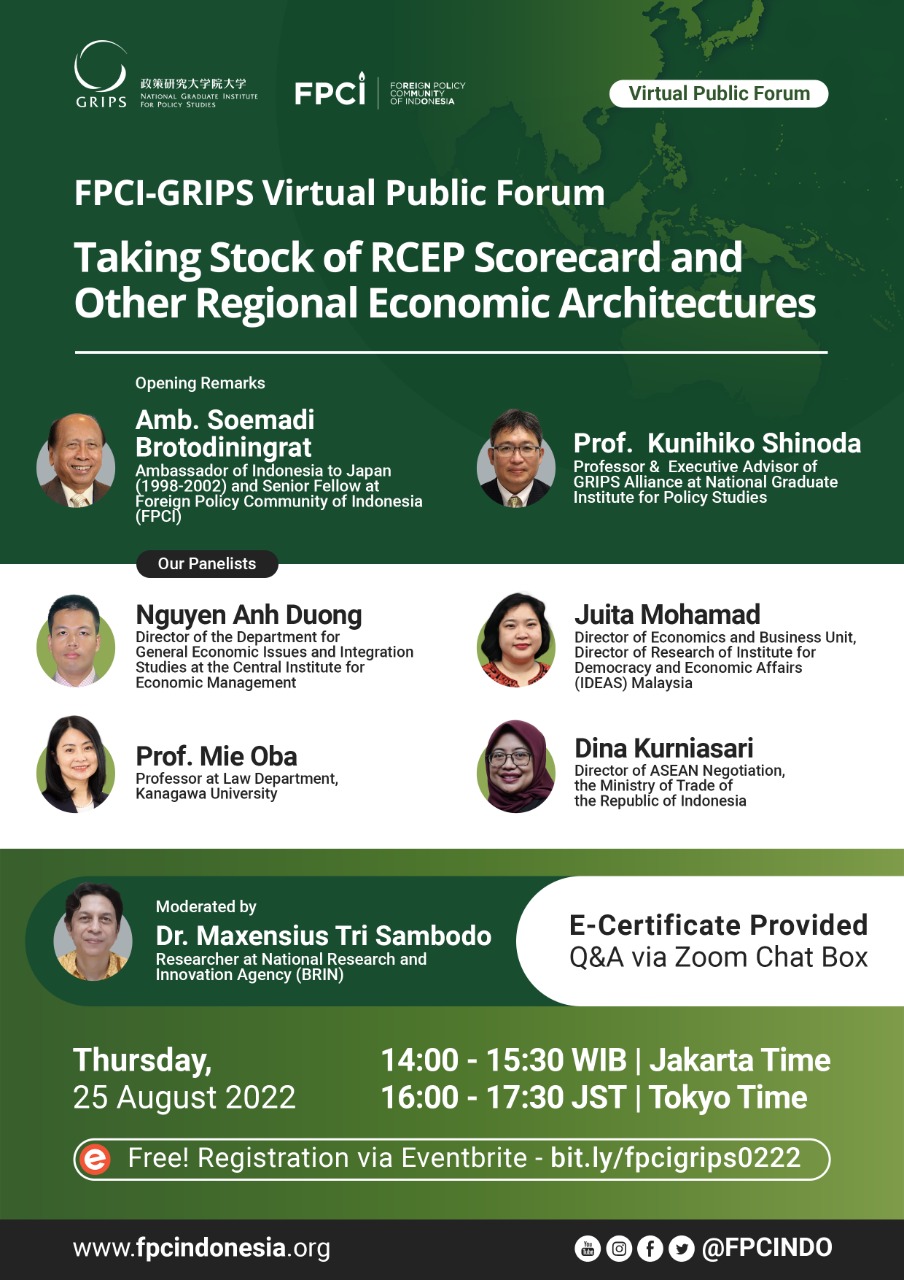 | | |
| --- | --- |
| Date / Time | 2022.8.25/16:00~2022.8.25/17:30 |
| Title | "Taking Stock of RCEP Scorecard and Other Regional Economic Architectures" |
| Venue | Online |
| Fee | Free |
| Language | English (Simultaneous interpretation to Japanese is available) |