Latest News
2021.10.14
JAPAN- IMF MACROECONOMIC SEMINAR FOR ASIA (JIMS) 2021
From September 27, to October 1, 2021 the National Graduate Institute for Policy Studies (GRIPS) has successfully held the 10th "Japan-IMF Macroeconomic Seminar for Asia (JIMS)" with the collaboration of IMF Regional Office for Asia and the Pacific (OAP). The seminar was conducted online on the theme of "Coping with the COVID-19 Recession; the Role of Macroeconomic Policies" aiming to build a dialogue across countries in the region.
JIMS is an executive training program focused on training senior officials involved in macroeconomic policy making in the Asia-Pacific region. It has functioned as a platform for macroeconomic policy dialogues for policy makers to share their knowledge and country experiences for enhancing regional economic integration and growth. This training has been conducted annually since 2011.This year, 27 participants from 17 member countries were selected through an open application.  
The 5-day seminar focused on topics such as "The World Economic Outlook under COVID-19", "Monetary Policy Responses in the US, Japan and the EU to the COVID-19 recession", "Fiscal Stimulus of Advanced Countries for fighting the COVID-19 recession", "The US-China Trade War and the Pandemic: The Risks to Global Value Chains" and "Policies for supporting the recovery of the service sector and SMEs: the experiences of advanced economies". Pre–recorded lectures and materials were shared with the participants to be referred beforehand while the discussions were conducted live on zoom meetings.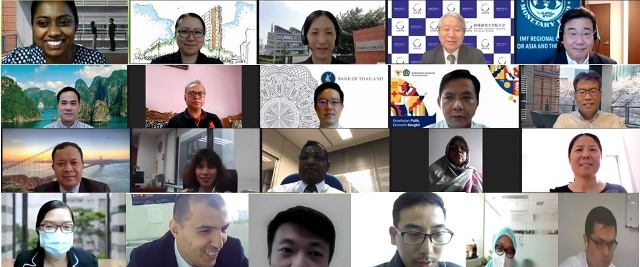 Roundtable discussions were held under the themes of "The pandemic recession and the limitations of macroeconomic policy" and "The COVID-19 Recession and Macroeconomic Policy Responses of Emerging Asia", where the participants took a main role in discussions on the economic impact of COVID-19, prevention of the spread of coronavirus infection, and macroeconomic policies for economic recovery in the context of their own countries.
GRIPS has invited distinguished academic scholars, senior economists, Japanese government officials and practitioners of private sectors, such as International Monetary Fund, Research Institute of Economy Trade and Industry (RIETI), Institute of Developing Economies – Japan External Trade Organization(IDE-JETRO), Ministry of Finance- International Bureau, Ministry of Economy, Trade and Industry- Small and Medium Enterprise Agency, Nomura Capital Market Institute , Hitotsubashi University, Niigata Prefectural University, Otemon Gakuin University, Gakushuin University, Tokyo Metropolitan University and Waseda University to share their views on challenges of the global economy and the experiences of fighting the pandemic recession with various macroeconomic policies that have been implemented in Japan and in the Asia- Pacific region.
Participants have explored opportunities and challenges related to the topics and enabled sharing of insights from each of the panelists. JIMS seminar served as not only a platform to share knowledge and information, but also to forge new relationships between macroeconomic policy experts across countries in the region.