News Archives
2019.3.15
Training Program for Officials of the Office of the Council of State(OCS) in March, 2019
GRIPS had a training program for 12 Officials from the Office of the Council of State (OCS) of the Royal Thai Government from March 11 to March 15, 2019.
In the program, participants attended a series of lectures given by Professor Emeritus Masahiro Horie (Director of Executive Development Center for Global Leadership), Professor Hirofumi Takada (GRIPS), Professor Fumio Takeda (GRIPS), Associate Professor Ayumi Kubo (GRIPS), Professor Hikaru Kobayashi (Keio University). Through the lectures participants learned a wide range of subjects, including Japanese legal system, Relationship between international law and domestic law, Domestic legislation of contents of international treaties, Japanese Government and Administrative System, Japanese Local Government Administration and Local Governance, System of policies and plans in Japanese administration, Preparation and evaluation of policies and plans, related laws and regulations, International arrangements on climate change and Japanese responses in laws and policies, the legal system for Disaster prevention, Countermeasures against floods and other disasters, Prevention, Emergency, Restoration, Reconstruction, Roles of the national government and Local Governments in disaster prevention and management.
For the site visits, participants visited the Fire and Disaster Management Agency of the Ministry of Internal Affairs and Communications, and the Water and Disaster Management Bureau of the Ministry of Land, Infrastructure, Transport and Tourism. Also participants visited The Metropolitan Area Outer Underground Discharge Channel (managed by Edogawa River Office Kanto Regional Development Bureau, MLIT). At each site, they have received detailed lectures and learnt about the various disaster prevention and management systems in Japan.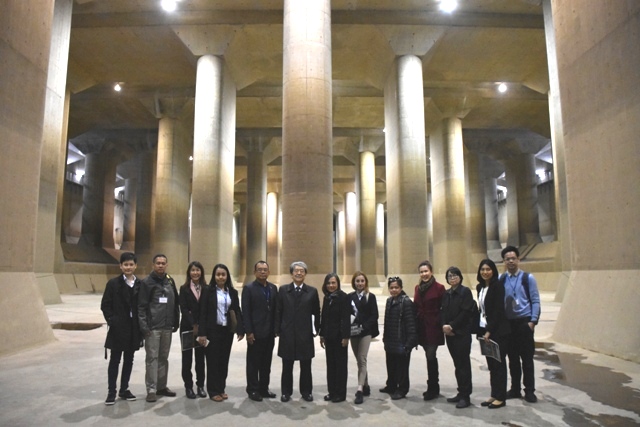 In the wrap-up session on the final day, Professor Emeritus Masahiro Horie and Professor Fumio Takeda made a follow-up lecture and Q&A session. Many participants expressed their acknowledgement for ample content of the program. Finally, in concluding ceremony, certificate of completing the course was given to all participants.