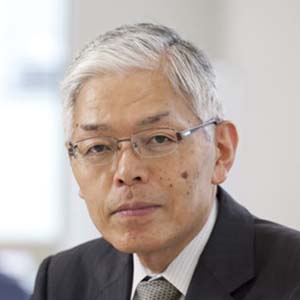 ARIMOTO, Tateo
Adjunct Professor
Specialized field

Science & Technology policy
Expanding networks of STI for SDGs in Japan and overseas.
SDGs Working Group at the Council of STI at the Cabinet Office.
The Committee of Science Diplomacy at the Foreign Ministry. SDGs Task Force of the Science Diplomacy Committee, MOFA.
Lecture and debate on STI for SDGs at the GRIPS and other universities.
Participating the United Nations STI for SDGs Forum and its preparation meetings since 2016.
Participating various global meetings and presenting and discussing about STI for SDGs with academicians, officials, diplomats, business and NGO people.
Papers
1. "Donor countries and the SDGs from Japan's perspective", Tateo Arimoto and Teruo Kishi, 2ND INTERNATIONAL DIALOGUE ON INTEGRATING SCIENCE & TECHNOLOGY ADVICE INTO FOREIGN MINISTRIES, Talloires in France, 15-16 September 2017.
2. "Policy Framework, Design and Implementation of STI for Sustainable Development beyond the Boundaries – Japan's Recent Development", Tateo Arimoto, at the Special Session "A Discussion about frameworks for promoting innovation, mutual learning and collaboration among donor agencies", 11-13 October 2017 in Athens (Greece), the International Conference Globelics 2017, on the main theme "Innovation and capacity building in the context of the financing and unequal development of the global economy: New roles for the state, productive sector and social actors".
3. "Science, Technology and Education for Rebuilding Broken Societies -from Japan's Perspective-", Tateo Arimoto, 10 November 2017, Plenary session "Rebuilding Broken Societies through Reconstruction and Recovery", at the World Science Forum 2018, in Jordan.
4. "Where STI for SDGs is going ? -From discussion to implementation through transforming STI eco-system: Policy, roadmaps and capacity building-", Tateo Arimoto, at Session:"STI roadmaps incorporating SDGs and their implications for policy and capacity building", 1 December 2017, United Nations Department of Economic and Social Affairs and UNCTAD. Incheon, Korea.
5. "The Sustainable Development Goals (SDGs) and Scientific Advice: A Science-Policy Interface", Tateo Arimoto.
6. "How the Science and Technology Capacity of a Developed Country is Addressing the SDGs from Japanese perspective -from discussion to implementation-", Tateo Arimoto, at the Session "Science for Sustainable Development Goals: Key Lessons and Gaps, February 17, 2018, at AAAS 2018, in Austin.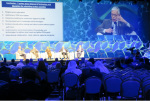 Expansion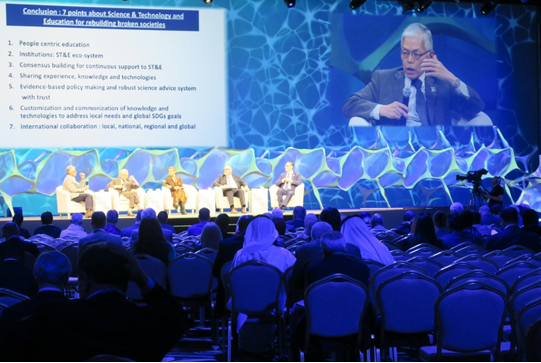 Expanding networks of STI for SDGs in Japan and overseas.
Read more
Close