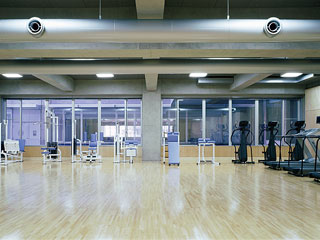 GRIPS has its own Fitness Center, located on the first floor, that can be freely used by students, faculty and staff.
Before using the Center, however, you will first have to participate in a training session during which a professional instructor will explain how to use the equipment. After finishing the training sessions, you are required to fill out a membership application form and you will also have to sign up for Personal Accident Insurance. This compulsory insurance covers those sports injuries that are not covered or are covered only partially by Japanese National Health Insurance. The minimum signup period is one year and will cost you 950 yen.
Dates and times for training sessions will be announced by the Student Office. Until you have completed the training session, submitted a membership application form, and signed up and paid for the insurance, you are not allowed to use the Fitness Center.
The Fitness Center is open from 9:00 to 21:00 from Monday to Friday and from 9:00 to 17:00 on Saturdays (except for national holidays).
The Tokyo International Exchange Center (TIEC) has a gym for badminton, basketball, table tennis, volleyball and training room (open 7am-midnight daily) all residents can use free of charge. The TIEC Administration Office will deal with signing up for an introductory session and registration.