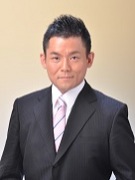 Position
Professor
Degree
Ph.D. (Political Science), Stanford University
Specialty
Comparative Politics; Japanese Politics, International Political Economy
Current Research Interests
(1) Changes in Japanese Parliamentary System
(2) Leadership of Prime Minister and Political Institutions
(3) Democratisation in Pre-war Japan
BA (Law), University of Tokyo, 1995. Joined the Ministry of Finance in 1995. Ph.D., Stanford University, 1998. Chief, Secretarial Headquarters for Administrative Reform of Central Government. Associate Professor at GRIPS, 1999. Professor at GRIPS, 2010-present.