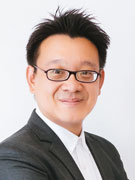 | | |
| --- | --- |
| Position | Associate Professor |
| Degree | BEng, MA (Chulalongkorn), MPhil, PhD (Cambridge) |
| Specialty | Politics of economic growth, the middle-income trap, institutional economics, industrial policy, Thailand, East and Southeast Asian development |
Veerayooth Kanchoochat is an Associate Professor of Political Economy at the National Graduate Institute for Policy Studies (GRIPS), Tokyo, JAPAN.

Veerayooth holds a Bachelor in Engineering and Master's in Economics from Chulalongkorn University, Thailand, before completing an MPhil and PhD from the Centre of Development Studies, University of Cambridge, UK, under the supervision of Prof.Ha-Joon Chang. 

His teaching at GRIPS includes graduate courses on Comparative Political Economy and seminars on contemporary development issues. He has also been a consultant to the Standing Committee on Economic Development (Thailand's Parliament) as well as the United Nations ESCAP.
He can be reached at: veerayooth.k@gmail.com
My research is primarily about the political economy of development in developing countries. I am interested in the debates on institutional change and persistence, state building, late industrialisation, the middle-income trap, varieties of capitalism, and welfare state building.
RECENT OP-EDS AND BOOK REVIEWS
(1) Interview with Nikkei Asian Review  "Thai Big Business Casts a Wary Eye on Upcoming Election" (February 2019).
(2) Interview with Nikkei Asian Review  "Thai Military Moves to Cement Relations with Big Business" (May 2018).
(3) "Entering Thailand 10.0: Either peaceful stagnation or growth-led turmoil" GRIPS-ESP Column (July 2017).
(4) "Thailand 10.0" on the Conversation website (October 2016).


(5) "Whither Emerging Welfare States?" A research note on ESP website (May 2015).


(6) A book review of Endo Gen (2013) "Diversifying Retail and Distribution in Thailand".


(7) A book review of Erik Kuhonta (2011) "The Institutional Imperative: The Politics of Equitable Development in Southeast Asia".
(1) "กับดักสถาบัน: กลไกทางสถาบันกับการไล่กวดทางเศรษฐกิจ" A working paper presented at Bank of Thailand's Symposium, 18-19 September 2017.
(2) "เศรษฐศาสตร์ [ฉบับทางเลือก]" A book translated from Ha-Joon Chang's Economics: The User's Guide (Penguin Books, 2014).
(3) รวมบทความขนาดสั้นบนเว็บไซต์ 101 A series of online op-eds on Thai political economy and miscellanies.
(4) อ่านเศรษฐศาสตร์การเมืองกับ ปกป้อง จันวิทย์ A dialogue with Pokpong Junvith.
"Institutional Traps: The Role of Institutions in Economic Catch-up" at the Bank of Thailand's Annual Symposium, Bangkok (19 September 2017, in Thai)
"Catch-up Legacies: Development Strategies and Democratic Trajectories in South Korea, Taiwan and Singapore" at Direk Jayanama Research Center, Thammasat University (8 September 2017, in Thai)
"Politics in Thailand: What to Expect in 2017–2018" at the ISEAS-Yusof  Ishak Institute's Regional Outlook Forum, Singapore (9 January 2017)
"Analysing Thailand's Political Economy through Three Economic Frameworks" at the Faculty of Economics, Thammasat University (3 August 2015, in Thai)
"Why NIE Fails: Institutional Persistence and Development Dilemmas in Middle-income Countries" at the Southeast Asia Research Centre (SEARC), City University of Hong Kong (1 December 2014)
"The Role of the State and Economic Reform in Thailand" at the Faculty of Economics, Thammasat University (15 September 2014, in Thai)
The political economy of development in Thailand
East and Southeast Asian economic development
Comparative institutional analysis
The developmental state and late industrialisation
Dr. Veerayooth KANCHOOCHAT
National Graduate Institute for Policy Studies (GRIPS)
7-22-1 Roppongi, Minato-ku
Tokyo 106-8677 JAPAN
Tel: +81(0)3-6439-6238
E-mail: kanchoochat@grips.ac.jp