2019.8.30[Fri]
[DII Seminar] "TICAD and the Trends in Digital Agriculture in Africa"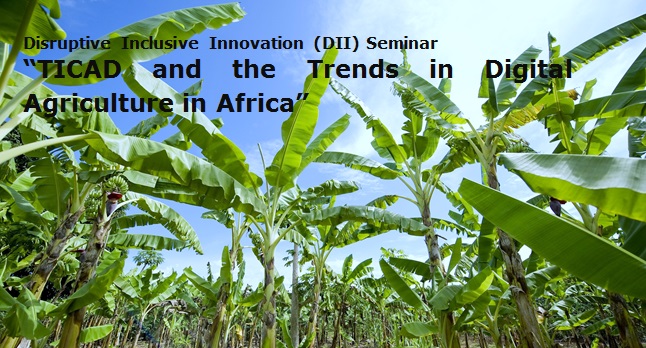 We are pleased to announce you that SciREX Center (Science for Redesigning Science, Technology and Innovation Policy) will inform the following the Disruptive Inclusive Innovation (DII) Seminar.
The Disruptive Inclusive Innovation (DII) seminar aims to create an open space for interaction among private, public, academic and third-party sectors to exchange new ideas, initiatives and views on innovation to meet Sustainable Development Goals (SDGs).
Date: 30th August, 2019 17:30 – 19:00 (Doors open 17:00)
Venue: Conference Room 3C, GRIPS
   7-22-1 Roppongi, Minato-ku, Tokyo(http://www.grips.ac.jp/en/about/access/)
Organizer: National Graduate Institute for Policy Studies (GRIPS) and SciREX Center
Language: English/Japanese (Simultaneous interpretation will be provided)
Registration:
Please register at this registration form by noon on August 29th.
If you cannot open the form, please send email to SciREX Center Secretariat,
scirex-center@grips.ac.jp
Registration email must include: 1) your name, 2) institution, 3) position, and 4) e-mail address.
[About Speakers]


○ Ms. Kemi Afun-Ogidan, Principal Agribusiness Officer, AfDB
Kemi Afun-Ogidan has a background in agribusiness policy advisory and public and private sector agribusiness investments. Kemi has worked on multiple portfolios including private sector financing, agribusiness and sustainable investments, strategy and public sector advisory in Africa. In her current role, she designs agriculture value chain projects and also coordinates the Bank's interventions on digital agriculture (ICT4Ag Program).

○ Ms. Atsuko Toda, Director, Agriculture Finance and Rural Development, AfDB
Ms. Atsuko Toda is an experienced manager and expert in the field of rural and agricultural finance, with extensive experience in rural development. She joins the Bank from the International Fund for Agricultural Development (IFAD), where she worked for close to twenty years on rural development and financing in Asia and Africa. She was the Country Director for Nigeria for IFAD, where she managed a large portfolio of investments in rural development, accelerating the access of  farmers to new technologies, finance and markets.

○ Dr. Ed Mabaya, Manager, Agribusiness Division, AfDB – (TBC)
Dr. Ed Mabaya is a scholar and a development practitioner with more than two decades of experience working on agricultural development, agribusiness value chains and food security issues in Africa. He is the Division Manager of Agribusiness Development (AHAI1) at the African Development Bank where he manages programs and investment in support of the Feed Africa strategy.
○Discussant: TBC
[Contact]
  Graduate Research Institute for Policy Studies(GRIPS)
    The Science for RE-designing Science, Technology and Innovation Policy Center
    (SciREX Center)
  Dr. Michiko Iizuka / Ms. Izumi Suzuki
    TEL: +81-(0)3-6439-6318 / FAX: +81-(0)3-6439-6260
    E-mail:scirex-center

grips.ac.jp
| | |
| --- | --- |
| Date / Time | August 30, 2019 17:30-19:00 |
| Speaker | Ms. Kemi Afun-Ogidan, Principal Agribusiness Officer, AfDB |
| Venue | Conference Room 3C, GRIPS |
| Fee | Free |
| Language | English/Japanese (Simultaneous interpretation will be provided) |