Events Information
2021.4.19[Mon]
GRIPS Forum "Brexit"
 *Please register at Registration Form  by 17:00 Thursday, April 15, 2021.  Register for this GRIPS Forum and you will receive an invitation e-mail from the Zoom online system. 
To join the GRIPS Forum on the day, click on the URL in your invitation e-mail.
Note: If you can't open the registration form, please e-mail to gripsforum@grips.ac.jp with your name, affiliation, job title, phone number or e-mail address.
Abstract:
UK selected to leave EU by the referendum which was decided by a slim margin. UK politics were in turmoil producing three Prime Ministers in three years.
UK finally achieved Brexit in 2020 and the lecture will introduce the British discussions during this period.
Now that UK can conduct diplomacy on her own UK is showing active engagement with the world announcing Global Britain and concluding FTAs.
UK is a democratic nation that honors Rule of Law. Possibility of enhancing Japan UK collaboration is rising. UK participation to Indo Pacific and CPTPP will be discussed.
Speaker:  H.E. Mr. Koji TSURUOKA, Former Ambassador of Japan to the United Kingdom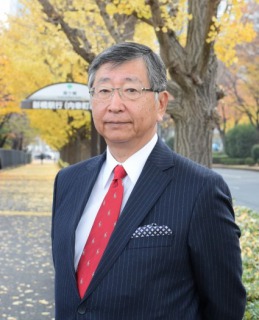 Speaker's Profile:

H.E. Mr. Koji Tsuruoka was appointed as the Ambassador of Japan to the United Kingdom in April 2016. Prior to this appointment, he was the Chief Negotiator for the Trans-Pacific Partnership (TPP) (2013-2016). He has served in embassies in Moscow, Washington and Jakarta. In the Ministry of Foreign Affairs he has served as the director of the legal division and North American division, Deputy Director General of the Foreign Policy Bureau (2003-2006), Director-General for Global Issues (2006-2008), Director-General, International Legal Affairs Bureau (2008-2010), Deputy Vice-Minister for Foreign Policy (2010- 2012), and Deputy Minister for Foreign Affairs (2012 –2013).
<We ask that you do not record the forum or take photographs during the forum. Thank you for your understanding and cooperation.> 
About GRIPS Forum:
Since its establishment in 1997, the National Graduate Institute for Policy Studies (GRIPS), as the only graduate school in Japan specializing in policy research, has promoted education and research on a wide range of policy issues.
Utilizing our vast policy network, this Forum invites leaders from various fields including government, academia and business, as well as staff from our own faculty, to deliver lectures on current policy concerns.
The Forum welcomes attendance of GRIPS faculty and students as well as participants from outside the university.
| | |
| --- | --- |
| Date / Time | 2021.4.19 16:40~18:10 (Japan Time) |
| Speaker | H.E. Mr. Koji TSURUOKA, Former Ambassador of Japan to the United Kingdom |
| Title | Brexit |
| Venue | Online (Zoom Webinar) |
| Fee | Free (Pre-registration is required) |
| Language | English |