Events Information
2020.11.16[Mon]
GRIPS Forum "Challenge of Developing Atami as a Sustainable Hot-Spring Tourist Resort"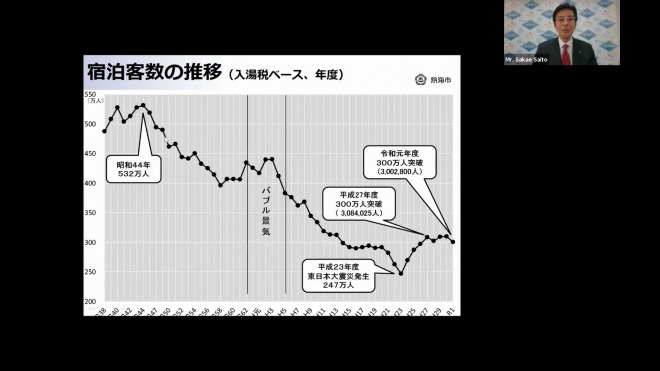 At GRIPS Forum on 16 November, 2020, Mr. Sakae Saito, Mayor of Atami City, Shizuoka Prefecture, gave a lecture titled "Challenge of Developing Atami as a Sustainable Hot-Spring Tourist Resort".
Abstract:
Atami is a well-known hot-spring tourist resort in Japan. It once flourished as a mecca for employees' trips and honeymooners during the era of high economic. However, now it is no exaggeration to say that it has become a highly-advanced city with many problems typical for regional cities in Japan, such as declining birthrates, aging populations, living difficulties, and financial difficulties. In this lecture, in addition to looking back on the initiatives Mr. Saito has taken ever since attaining the office of Mayor, such as financial reconstruction, tourism promotion, and improvement of residents' welfare, we will look over the development of a sustainable hot-spring tourist resort, premised on the further declining birthrate, aging population, and reduced tax revenues we will face in the future.
Speaker:  Mr. Sakae Saito, Mayor of Atami City, Shizuoka Prefecture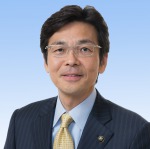 Speaker's Profile:
Mr. Sakae Saito graduated from the Tokyo Institute of Technology's Department of Civil Engineering, School of Engineering, and completed his master's program (majored in civil engineering) from the Tokyo Institute of Technology's Graduate School of Engineering. He has also attained an MBA from Duke University in the United States. He joined the National Land Agency (currently the Ministry of Land, Infrastructure, Transport and Tourism), and held various posts successively, such as Chief Investigator of the Metropolitan Areas Development Bureau (Chubu Area), Planning Director of the Tohoku Region Development Office of the Regional Development Bureau, and Expert Investigator of the National Land Survey of the Land Bureau. Mr. Saito worked for the Jikei Group of Colleges, and served as a policy secretary for members of the Diet (both the House of Representatives and the House of Councilors), and then took office as Mayor of Atami City in 2006. Currently, he is in his fourth term. He also serves as the President of the Shizuoka Association of City Mayors and the President of the Hot Springs Location City Council.
| | |
| --- | --- |
| Date / Time | 2020.11.16 16:40~18:10(Japan Time) |
| Speaker | Mr. Sakae Saito, Mayor of Atami City, Shizuoka Prefecture |
| Title | Challenge of Developing Atami as a Sustainable Hot-Spring Tourist Resort |
| Venue | Online (Zoom Webinar) |
| Fee | Free (Pre-registration is required) |
| Language | Japanese (English simultaneous interpretation provided) |