The Second GRIPS SDGs Award Winner

The Second GRIPS SDGs Award Winner Announced!
SDGs are high on the GRIPS agenda and to promote innovative efforts by alumni towards solving the most pressing environmental, social and economic challenges of our time, the GRIPS SDGs Awards were launched in 2019.
The selection process has been hard. In the first round, the selection committee shortlisted 4 entries to go through to the next stage and we are excited to announce that the winner of the Second GRIPS SDGs Award contest is Dr. Anwar Sanusi. Dr. Anwar Sanusi, who hails from Indonesia, completed his master's degree at the Graduate School of Policy Science (GSPS), Saitama University in 1998 and his Ph.D. at GRIPS in 2007.
We want to send a big thank you to everyone who participated in our contest and helped make it a success! And a special congratulations to Dr. Anwar Sanusi!
Dr. Anwar Sanusi will present his project at a special online GRIPS Forum on June 7th, 2021.
Winner's Profile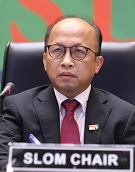 Having a long experience as a civil servant since 1994, Dr. Anwar Sanusi has held various positions in the Indonesian bureaucracy. From May 2015 until August 2020, he served as Secretary General of the Ministry of Villages, Disadvantaged Regions, and Transmigration, which carries out the task of supporting President Joko Widodo's vision of developing Indonesia from the periphery through strengthening regions and villages. He currently holds the position of Secretary General of the Ministry of Manpower Republic of Indonesia.
Winning SDGs Award Project
Under the administration of President Joko Widodo,  Indonesian rural development has seen a drastic shift of paradigm marked by the establishment of the Ministry of Village, Development of Disadvantaged Region, and Transmigration, mandated to oversee the acceleration of the development of the rural, disadvantaged, and transmigration (re-settlement) areas in Indonesia.
The newly established Ministry is responsible for designing, implementing and overseeing current project,  "Localizing the 2030 SDGs by Accelerating Rural Development", which has been playing a pivotal role in Indonesia's rural development.
As Secretary General of the aforementioned Ministry, Dr. Anwar Sanusi's main role has been to provide managerial support for the program and to act as the main contact person to all relevant stakeholders. It was his responsibility to negotiate with development partners, to build and maintain good relationships with development partners, to convey the related policies of the Ministry and to ensure the full implementation of the program
Shortlist of the Second GRIPS SDGs Award
Name

 

County

Project Title

Rukarwa Lorraine
Zimbabwe
Food for Assets Programme
Saurabh Kumar
 
India

EESL's National Lighting Programmes – Domestic(Unnat Jyoti

by Affordable LEDs for All (UJALA))and Public Lighting

(Street Lighting National Programme)

Anwar Sanusi
 
Indonesia
Localizing the 2030 SDGs by Accelerating Rural Development
Arianne Dacalos
 
Philippines
1DdO Helpline (One Davao de Oro Helpline)