Statesmen's Program
2011.10.29
The 12th Japan-Korea Future Initiative 2011 Seminar was held at GRIPS in Tokyo, Japan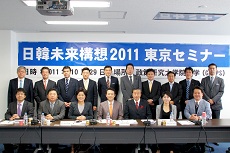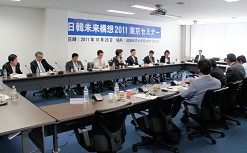 The twelfth Japan-Korea Future Initiative seminar was held on October 29, 2011 at GRIPS in Tokyo, Japan.  14 Members of Parliament joined this time from Japan and 7 from Korea.
At this seminar, the issue of FTA/TPP that is currently raising a lot of contentions in both countries was set for the agenda of session 1: "KORUS FTA, TPP, and Korea-Japan EPA from a Strategic Angle".  A broader topic was set for session 2: "Future Strategic Cooperation between Korea and Japan". 
Following the second session, the members visited the "K theater" recently established in Ebisu as a hub for K-pop performance in Japan.  The members were impressed with how K pop has gained a strong support base among young Japanese people.