Statesmen's Program
2011.8.19
The 10th Asian Statesmen's Forum was held in Matsushima, Japan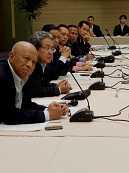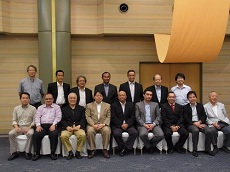 The tenth Asian Statesmen's Forum was held during August 19-22, 2011 in Matsushima, Japan.
In the first session "Security in Asia – Global challenges in facing natural & man-made disasters", Mr. Yoshinori Suematsu, Senior Vice-Minister of Cabinet Office and Head of Miyagi Response Office of the Reconstruction Headquarters in response to the Great East Japan Earthquake Disaster, was invited to make a presentation on the current state of reconstruction and recovery of the region.  Other topics on the table were "Geopolitical Outlook in Asia", "Direction of Energy policies – the potential of Green energy" and "General Discussion (political situation in each country)".  
New members joined this Forum from the Philippines, Thailand and Malaysia, and interesting exchange of opinions were made on the current state of affairs in the members' respective countries. 
On the third day (Sunday), some of the participants visited the area of Yuriage to see firsthand the devastation brought about by the Tsunami.