Statesmen's Program
2008.12.5
The 6th Japan-Korea Future Initiative 2008 Seminar was held in Seoul, Korea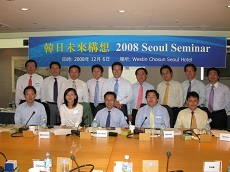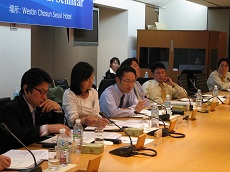 The sixth Japan-Korea Future Initiative seminar was held during December 5-6, 2008 at Seoul, Korea.
At the time, President Obama had just won the election in November, to be inaugurated as the new president of the United States in January 2009.  One of the discussion agenda was on how this would impact Japan and Korea: "The new government of the United States and issues of security cooperation etc. with Japan and Korea".  Another topic was "common challenges towards the 2010 problem (100th year since Japan's annexation of Korea)".  Direct and honest exchanges of opinions were made on various issues including the set agendas.  Also at this seminar, after the sessions a joint press briefing was held. 
Following the seminar, the participating statesmen were invited to a formal dinner hosted by H.E. Dr. Han Seung-soo, President of South Korea (at the time).