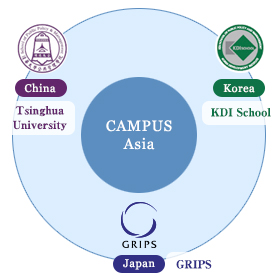 CAMPUS Asia (Collective Action for Mobility Program of University Students in Asia) is a student exchange program funded by the Ministry of Education, Culture, Sports, Science and Technology (MEXT) to support Japanese universities in extending their global reach.
The objective of this CAMPUS Asia Program is to establish a higher educational network among universities in Japan, China, and Korea to improve the competitiveness of Japanese universities in the international academic market and to nurture the development of future leaders who can succeed in the global community.
At GRIPS, we strive to develop a system that ensures quality in higher education across borders while providing overseas students with a graduate education. This is also expected to facilitate collaborative endeavors between Japanese and international students.
CAMPUS Asia Program at GRIPS
Rapid technological advances in the economy and society have led to globalization in multiple areas, such as trade, transport, and information, and Japan finds itself at the very heart of this evolution. This globalization is also changing universities and higher education; graduates are being called upon to actively contribute to this globalizing society. In this light, high-quality education that meets international academic standards has been provided in advanced Western countries as well as various Asian countries.
The Japanese, Chinese, and Korean governments launched CAMPUS Asia, a student exchange program among universities in the three countries. CAMPUS Asia was modeled on the ERASMUS program, which was set up in 1987 by the EU to promote the exchange of students and researchers and to strengthen the networks among academic institutions of higher education. The CAMPUS Asia program has formed a consortium of universities in Japan, China, and Korea to exchange students for credit transfers and degree conferment.
GRIPS, the KDI School (KDIS) in Korea, and the School of Public Policy and Management (SPPM) at Tsinghua University in China jointly conduct global-standard public policy education for mid-career professionals in the public sector and key private sectors, centered on the social sciences. We exchange our students in master's and doctoral programs.
GRIPS provides the opportunity to participate in exchange programs to students both in international programs such as our One-year and Two-year Master's Programs of Public Policy (taught in English), and in domestic programs (taught in Japanese). Various assistance and support is available to students for their academic education and life in KDIS and SPPM. Meanwhile, GRIPS accepts students from these schools mainly in international programs.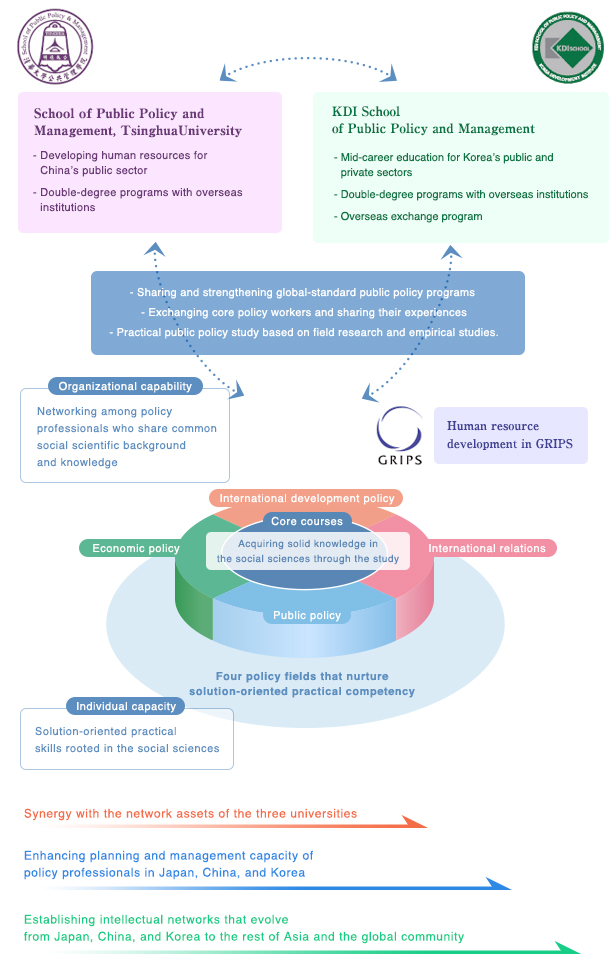 Objective
Through our solution-oriented interdisciplinary graduate education focused on the social sciences, GRIPS develops practical individual capacity.
Through this graduate education, we also aim to build a network of core policy makers consisting of, particularly, promising mid-career professionals in Japan, China, and Korea.
Student Exchange Framework of the CAMPUS Asia Program
Under this program, a total of 120 students will be exchanged among the three universities during the four-year period beginning in FY2012.
Exchange Scheme
Double-Degree Master's Program
Two-year master's course, in which students spend one year at GRIPS and another year at KDI School. Two master's degrees are to be earned.
Credit Transfer System for Master's and Doctoral Courses
Credits earned from the partner universities will be counted toward degree requirements at GRIPS
Short-term Programs
Summer Schools
One-day Seminars
These programs are designed so that the students can broaden their knowledge and establish their network with other international students.
Examples of Exchange Patterns for Double Degrees and Credit Transfers

See here for the details of our partner universities.