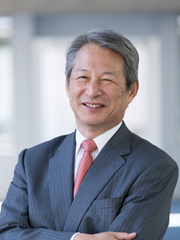 | | |
| --- | --- |
| Position | President |
| Degree | Ph.D. (History), Cornell University |
| Specialty | Area studies, International Relations, Politics |
| Current Research Interests | Regional Formation in East Asia, International Relations and Politics in East Asia |
Shiraishi Takashi, born in 1950 in Ehime, has taught at the University of Tokyo (1979-1987), Cornell University (1987-98), Kyoto University (1996-2005), and National Graduate Institute for Policy Studies (GRIPS) in Tokyo (2005-2009). He served as Executive Member, Council for Science and Technology Policy (CSTP), Cabinet Office (2009-2012). He currently serves as President, GRIPS (since 2011) and President, Institute of Developing Economies-JETRO (since 2007).
An Age in Motion: Popular Radicalism in Java 1912-1926 (Ithaca, Cornell University Press,1990, Ohira Masayoshi Asia Pacific Award)
Indonesia: Kokka to Seiji (Government and Politics in Indonesia, Tokyo: Libroport, 1992, Suntory Academic Award)
Umi no Teikoku (The Making of a region, Tokyo: Chuokoron, 2000, Yomiuri-Yoshino Sakuzo Award)
Network Power: Japan and Asia (jointly edited with Peter J. Katzenstain, Ithaca, Cornell University Press,1997)
Beyond Japan: The Dynamics of East Asian Regionalism (jointly edited with Peter J. Katzenstain, Ithaca, Cornell University Press, 2006)
How is China changing East Asia? (in collaboration with Hau, Caroline, Chuokoron-Shinsha, 2012)
Kaiyo Ajia vs. Tairiku Ajia (Maritime Asia vs. Mainland Asia, Kyoto: Minerva, 2016) 
Awarded the Japanese Medal of Honor with Purple Ribbon in 2007.
Designated the Person of Cultural Merit in 2016.