GRIPS alumni


contributing to the SDGs
Training the active agents behind projects targeting the SDGs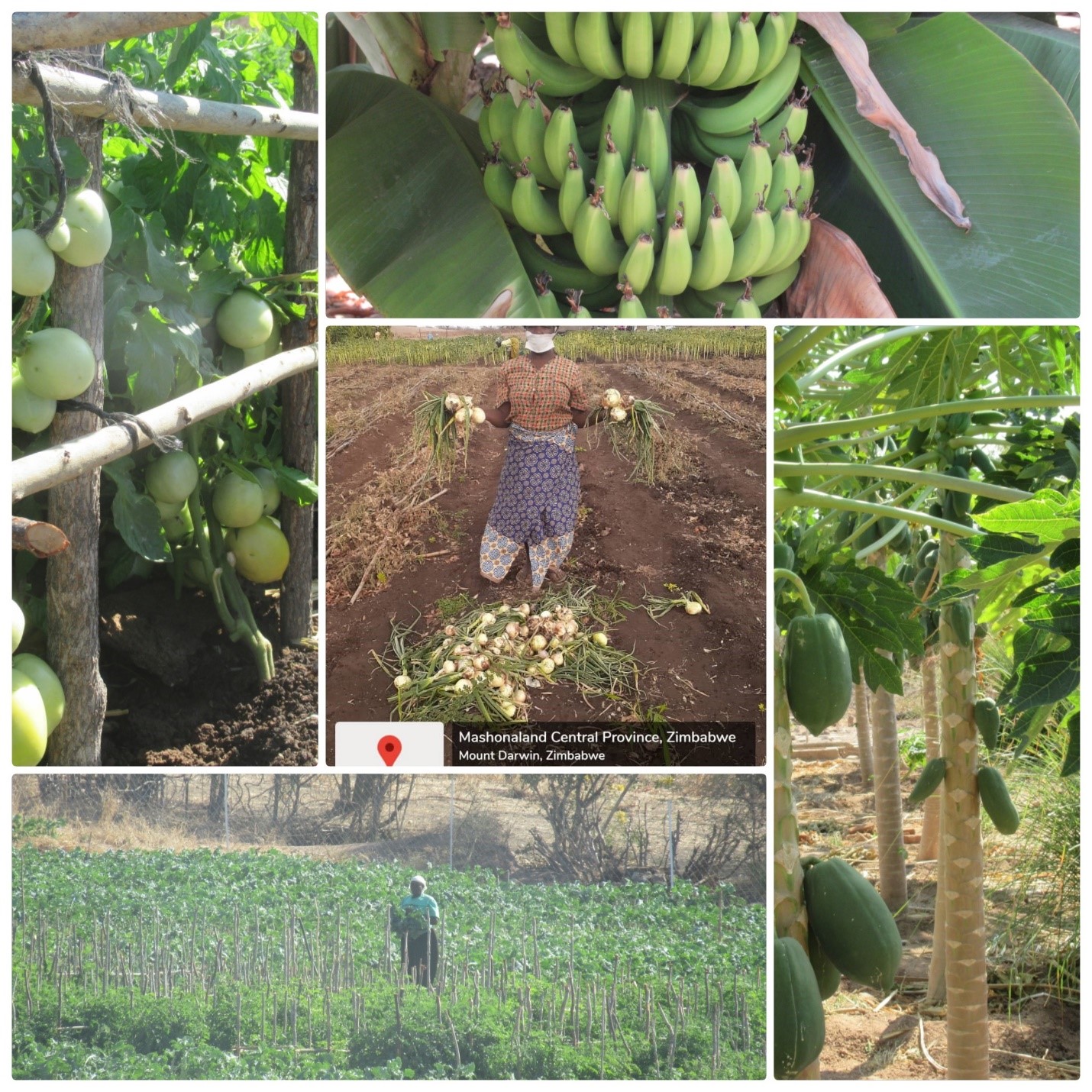 ZIMBABWE
Disaster Management Policy Program (2016)
Food for Assets Programme Mt Darwin District of Zimbabwe 2018-2020 (Majerejere Nutrition Garden)
(日本語) Following my participation in the GRIPS, DMP programme in 2016 I joined the World Vision International and implemented the UNWFP sponsored Food For Assets (FFA) Programme in Mt Darwin District of Zimbabwe.
The area is at risk to annual droughts and flash flooding. The FFA programme is designed to address the short-term hunger crisis caused by these disasters, whilst, assisting the community in creating productive assets that ensure resilience to future disasters. I took lead in the creation of Majerejere Nutrition Garden located in low-lying areas of Mt Darwin, whereby 545 beneficiaries would provide labor to create the productive assets and will be rewarded with food hampers.
The programme activities involved the provision solar powered boreholes to irrigate the created 2ha nutrition garden, and 0.3ha orchard among other assets. The garden directly benefits 75 families and over 700 families indirectly. The created assets also provide clean water to a beef herd of over 1000. The intervention ensured a constant supply of fresh vegetables and exotic fruits throughout the year to community used to eating dried foods.
The project has significantly improved the livelihoods of the people as well as health and nutrition of children, household dietary diversity and drought resilience.
Read more
Close
Sri Lanka
Muthubanda Appuhamige Sanath Susila Gunasena
Disaster Management Policy Program (2014)
Galoya River Bank Restoration - Green Path Solution
The stages of Channel Evaluation Model such as bed degradation, bank collapse & aggradations are visible in the Galoya river. Many hard structural solutions for river bank restoration failed due to their non adaptive nature to the natural river behaviours or laws of nature.
Natural and nature based green (soft) method for the restoration of river bank by using timber piles and plantation was commenced in 2016. First, the main river course was smoothly shifted away from the eroded bank within the bank-full limits. Special attention was given to maintain the existing slope in order to keep the driving and resisting forces of the river flow same.  The eroded section was partly refilled with sand and let the next bank-full discharge which is the  channel forming or the geomorphically effective discharge, to do the natural changes in the filled section. Then three parallel timber pile rows with plantation were introduced to make the section more stable and kept wooden debris to retard the flow velocity and decrease the sediment mobility to deposit the same in the section.
The riverbank is now getting stable. Furthermore, this green method took time but sustainable once it become a part and parcel of nature.
Read more
Close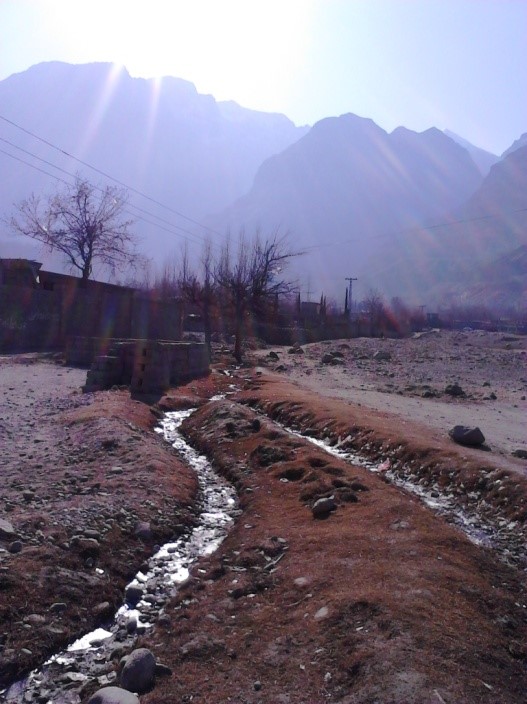 Pakistan
Director General, Gilgit Development Authority, Provincial Government of Gilgit Baltistan, Pakistan
Young Leaders Program (2016)
Sewerage System along with Treatment Plant for Gilgit city, Pakistan
Gilgit is a small mountainous city of Pakistan having population of 300,000. However, it did not have any sewerage and waste water treatment system once I took over the charge of Director General, Gilgit Development Authority soon after returning from Young Leaders Program (Grips, Tokyo) in October 2016. Challenge was to address waste water directly flowing in river without treatment. This practice was not only extremely harmful for aquatic life but also very dangerous for humans, as a number of pumps have already been installed on the downstream of the river Gilgit to provide drinking water to the inhabitants of few nearby localities using same water without any treatment. Health Department has reported that water borne diseases were increasing day by day due to non-provision of sewerage system and safe drinking water facilities in Gilgit city.
As a team, we need to work really fast. We were successful to get political ownership of our project proposal for the design, engineering, procurement and operationalization of Sewerage System along with Treatment Plant. We mobilized community in supporting the process of land acquisitions for sites required for treatment plants, pumps, drains etc. We are successful in prioritizing this project after rigorous and innumerable meetings / presentations to Finance Departments at Provincial and Federal level to arrange its finances. Another side of efforts was engaging community to convince them for reasonable amount of municipal fees in order make the project self sustainable after its commissioning.
Some of the key objectives that will be achieved after successful completion of the project are:
Improvement in sewerage and sanitation facilities
Bringing sewage within permissible limits of national environmental quality standards before disposal into water bodies and river
Treatment of sewage to reduce adverse environmental impacts.
Ensuring protection of target population from all diseases in Health Sector
Avoiding contamination of natural water bodies.
Avoiding contamination of soil and land resources.
Avoiding unnecessary expenditure incurred on the health of the residents due to disposal of untreated sewage
Within one year, we completed its feasibility study, got project clearance from Environmental Protection Agency, secured finances, carried procurement through International Competitive Biddings and received proposals from China, Germany, Malaysia and Turkey. Currently, engineering work on the project is in full swing and its completion date is June 2022.
Within one year, we completed its feasibility study, got project clearance from Environmental Protection Agency, secured finances, carried procurement through International Competitive Biddings and received proposals from China, Germany, Malaysia and Turkey. Currently, engineering work on the project is in full swing and its completion date is June 2022.
Besides mega projects Gilgit Development Authority under my leadership has also initiated many other vital projects like Development of City's Master Plan, Clean Drinking Water Schemes, Solid Waste Management System, Installation of Solar Street Lights, and, Renovation/ preservation of historical heritages etc.
Lastly, this Project will improve the overall environment of city, by eliminating haphazard settlements along the river banks. At present a lot of service stations besides restaurants have been constructed which pollute over all environment including the water of river Gilgit. At the downstream a handsome population uses river water for drinking purpose, due to pollution of water the residents are facing water borne diseases. By initiating this project but also the land can be converted into walking tracks, tourist attraction spots, biking, camping and picnics, which will provide a recreational and economic activity to the inhabitants of Gilgit city and tourist attraction place to the national and international tourists.
Read more
Close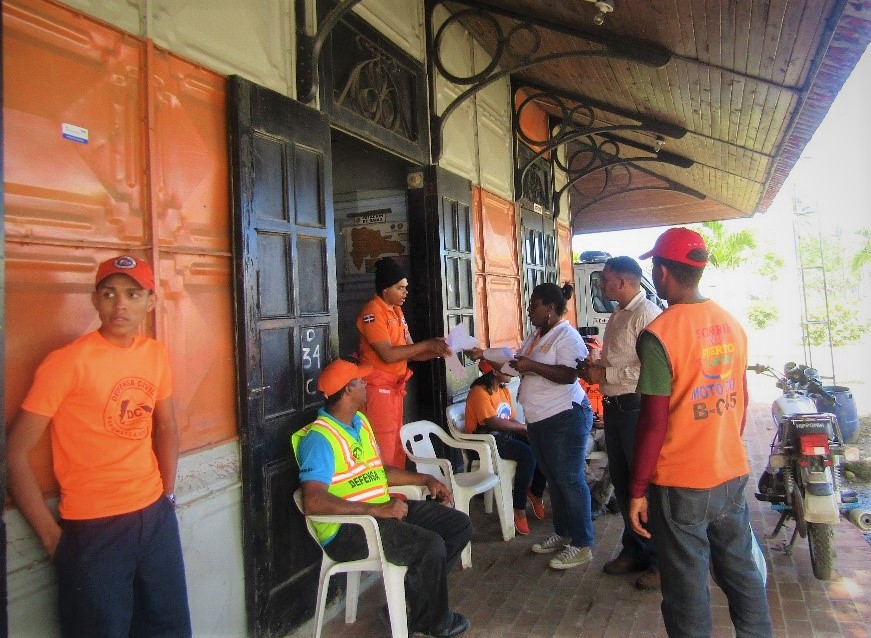 Dominican Republic
Yesica Hypatia Pérez Alejandro
In charge of the Dynamic Department of Seismic Studies of National Geological Survey of Dominican Republic
Disaster Management Policy Program (Earthquake Engineering) (2013)
Effect of Site for the Determination of Vulnerability at Puerto Plata
In this Project we are conducting a site effect investigation, taking into account the geotechnical characteristics of the soil where essential buildings of national importance are located.
For the same, measurements of microseisms will be made and the seismic records and their effects on the different types of soils will be analyzed. In this way, the amplification values ​​of the soil in the urban area of ​​Puerto Plata can be obtained by applying various methods, mainly 1D and 2D modeling of the soil parameters; it will also make it possible to obtain more precise values ​​of the local seismic hazard. A set of soil maps and amplification factors for the urban area will be prepared, and a methodological procedure will be established to calculate the dynamic response of the soils. All of which will enable the most effective determination of seismic vulnerability in essential buildings located in the province of study.
The research will be supported by the use of different computer programs (Besoil, Pshake) and the outputs will be manipulated with the help of a Geographic Information System (ArcGIS) allowing an interactive use of the data.
This Project is carried out by Yesica H. Perez, María B. Roque and Julio P. Bautista representing the National Geological Survey (SGN) of the Dominican Republic and Zulima Rivera of the National Center for Seismological Research (CENAIS) of Cuba. In this project I am the main researcher, in which I have the responsibility of managing and executing activities in the determination in the analysis and local effect of the soil.
This project is financed by the National Fund for Scientific and Technological Innovation and Development (FONDOCYT) of the Dominican Republic and the National Geological Survey (SGN).
Read more
Close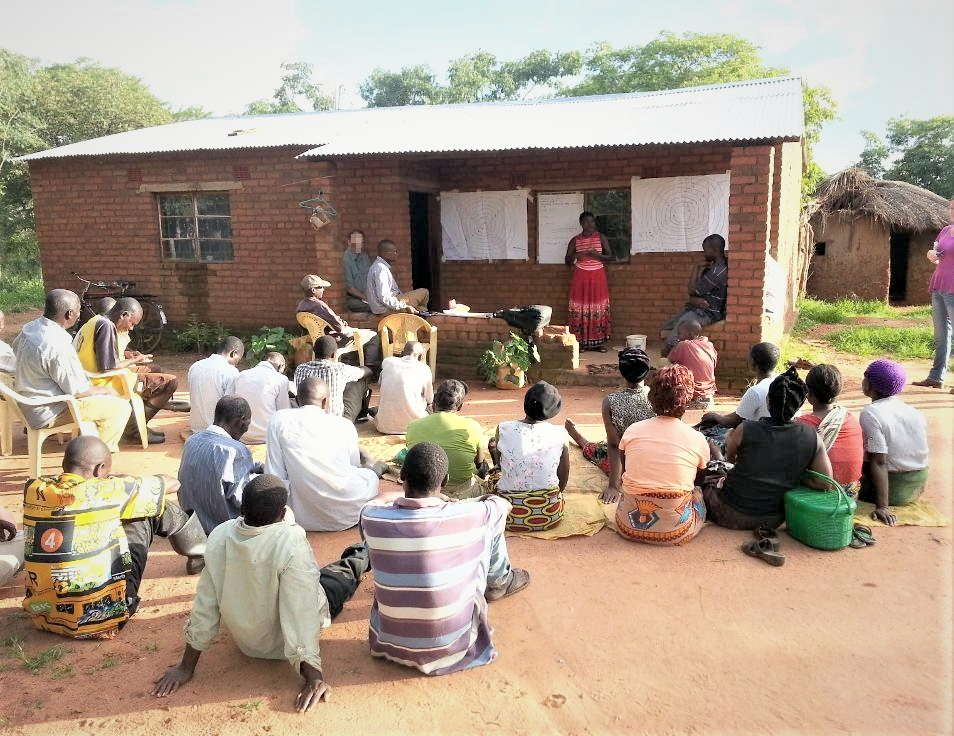 Japan
Natural Resource Economist (Asian Institute of Technology), Thailand, 2018-Present
Policy Analysis (Ph.D) (2011)
International Development Studies (Master) (2008)
Reducing hunger and poverty among rural agrarian communities in sub-Saharan Africa
I have been leading and participating in more than 15 projects aimed at reducing hunger and poverty in sub-Saharan Africa and tropical Asia through international organizations such as ICRISAT, IRRI, and AIT during the call period from September 2015 to present. To name a few, I was the principal investigator (PI) for "Reducing women's drudgery and increasing efficiency in legume post-harvest operations through labor saving technologies in Malawi, Zambia, and Mozambique" funded by the McKnight Foundation and USAID (Feed-the-Future); PI for "On-farm assessment of groundnut post-harvest losses in Malawi" funded by CRP-PIM (IFPRI); and Analytical Lead for "Enhancing child nutrition through climate-smart nutrition-dense crops in Tanzania, Myanmar, and India" funded by USAID (Africa Rising), CRP-A4NH (IFPRI), AusAid, and TAPF.
Aside from the project lead roles, my technical expertise lies in agricultural economics, technology adoption, survey methods, impact assessment, social capital analysis, and monitoring & evaluation. I have conducted more than 20 surveys with rural households and individuals as well as peri-urban households, through which I analyzed various constraints faced by smallholders and landless labor in improving food and nutrition security and escaping from hunger and poverty, using sophisticated methods such as the spatial econometrics, panel regression, and mixed methods approach, feeding into evidence-based policy making in developing countries.
More recently, I have been the Technical Advisor for "Socioeconomic Impact Assessment of the Municipal Water Supply System in Urban Slums of Mandalay, Myanmar" funded by JICA-RI; Co-PI for "Ecotourism and Ocean Plastic Control in Vietnam and Thailand" funded by Toyota Foundation; Co-PI for "Sustainable Trade of Agricultural and Wildlife Products in Congo Basin countries (Cameroon, Gabon, DR Congo, and R Congo), Tanzania, PR China, Brazil, & Indonesia" funded by UKRI via UNEP-WCMC; and Co-PI for "FDI and Cassava Value Chain in Thailand" funded by IDE-JETRO.
Read more
Close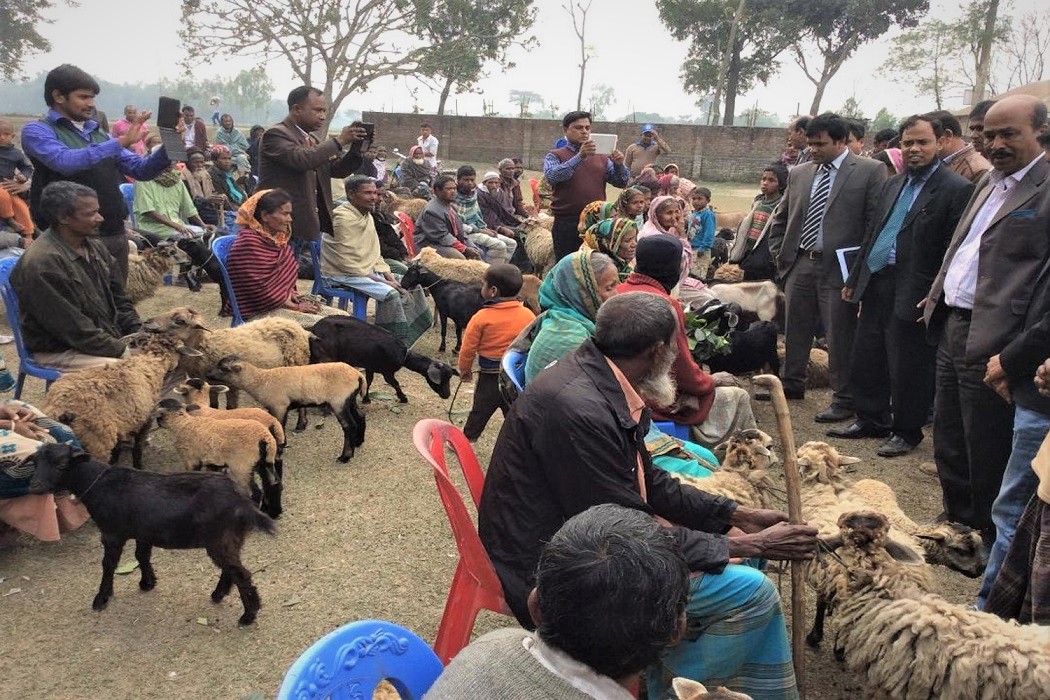 Bangladesh
Deputy Secretary currently working as Director, Bangladesh Public Administration Training Centre (BPATC)
Public Policy Program (2010)
Upazila (Sub-district) Beggar Rehabilitation Initiatives: Kishoreganj Upazila, Niliphamari District, Bangladesh
Kishoreganj Upazila is a backward, disadvantaged and poorest upazilla of northern district Nilphamari. Total 2, 94,064 people live in the area of 204 s/km. Large population, unemployment, illiteracy, lack of awareness, drought, river erosion, flash flood, etc. make the poverty aggravated. A large number of poor people including women, disabled, elderly, ethnic minorities were involved in begging in the streets, office area, markets, mosque, and household level. They were not aware of sanitation, children's education, health and nutrition, and social manner, etiquette and culture. No organization has come to support them for their rehabilitation. Even the beggars were not included in the beneficiary of government social safety net programs which was pathetic. They were starving frequently, wearing old and torn clothes and not getting their civil rights, social dignity and leading their lives in a measurable condition. They were lacking nutrition, as a result, they were suffering various types of diseases. They had no money to buy medicine. They could not send their children to school and engaged in child labor due to the financial crisis. Most of them were living torn, thatched, vulnerable and unprotected homes. All the things were against the spirit of Sustainable Development Goals. In the above circumstances, I was posted as Upazila Nirbahi Officer ( Chief Executive Officer of the sub-district) and took the beggar rehabilitation initiative. As government representative and CEO, I along with my colleague undertake following initiatives for beggar rehabilitation:
First, I motivated the people's representative, public and private employees, member of civil society and the street beggars;
Second, I conducted a survey and identified 979 street beggars and assessed their needs and identified 20 alternative employments. Kaizen Tea Garden is one of them where 100 workers work every day.
Third, Mobilized funds from local people and the central government for input distributions and capital formation. All 979 rehabilitated persons became members of the "My Home My Farm" project and formed the capital of Bangladeshi taka 15 million and deposited in Palli Shanchoy Bank.
Fourth. Distributed materials like hens, ducks, goats, ships, cow and different types of materials for income-generating activities;
Fifth, Included all of them to social safety net programs (like old age, widow, disable allowances, etc,) of the government convincing elected representatives;
Sixth, Created Kaizen Tea garden for their employment;
Seventh, Imparted skill-based training and awareness building;
Eighth provided homes to 790 families from government Ashrayan Project;
The initiatives opened their eyes, they realized that they had social dignity which was lost due to begging. Immediate after getting the materials and government safety net protection, they started productive activities. They were able to earn money, remove hunger, alleviate poverty and stand on their own feet.
Finally, the Upazila became beggar-free. I was also leading the beggar rehabilitation program in Narail district in the year 2016 immediately after my posting as additional deputy commissioner there. For the outstanding contribution in the field of beggar rehabilitation, Bangladesh Government awarded me as "Public Administration Award 2017".
Read more
Close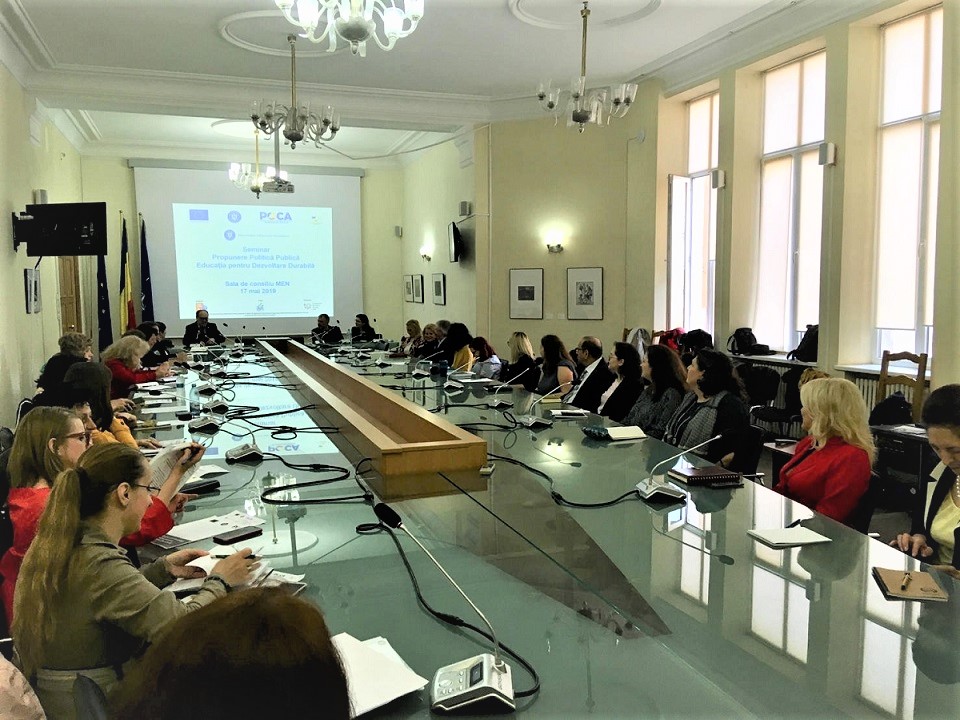 Romania
Public Manager, Directorate for Communication, Projects, Cooperation and External Affairs, National Institute of Administration, Romania

Education for Sustainable Development (ESD)

While working at the Romanian Ministry of Education, at the Public Policy Unit, I acted as a coordinator and as a liaison between different stakeholders with an interest in ESD, ranging from civil society organizations to intergovernmental organizations. I coordinated a working group with the scope of promoting the UN Sustainable Development Goals and created visibility via a dedicated webpage, press releases, SDG opportunities' announcements, but most importantly created the first open educational resources in Romania for all the 17 SDGs, together with UNICEF and two Romanian NGOs (Association REPER21 – European Network for the Promotion of a Responsible Economy for the 21st century -, in partnership with the Foundation for the Development of the Civil Society).
Further on, with the above mentioned NGOs, a protocol was signed with the Ministry of Education with the scope of creating a public policy for ESD (since Romania was lacking a national plan for implementing ESD, as stipulated in the UNECE Strategy for Education for Sustainable Development, adopted in 2005). My role was to be the interface between the ministry and the organizations, to facilitate the dialogue between the stakeholders, to give constant feedback on the different stages of drafting the policy. At the end, I have organized a public debate on the public policy that gathered relevant public institutions (Ministry of Environment, the Department for Sustainable Development from the Government), The Institute of Educational Sciences, the VET Agency, universities and experts from the ministry.
In the meantime I have collaborated with other institutions and organizations that promoted sustainable development policies (e.g. with the Romanian European Institute on a study regarding the development of circular and green economy in Romania; was part of the Drafting Committee for revising the National Strategy for Sustainable Development) and represented the ministry in international meetings related to education for sustainable development.
Read more
Close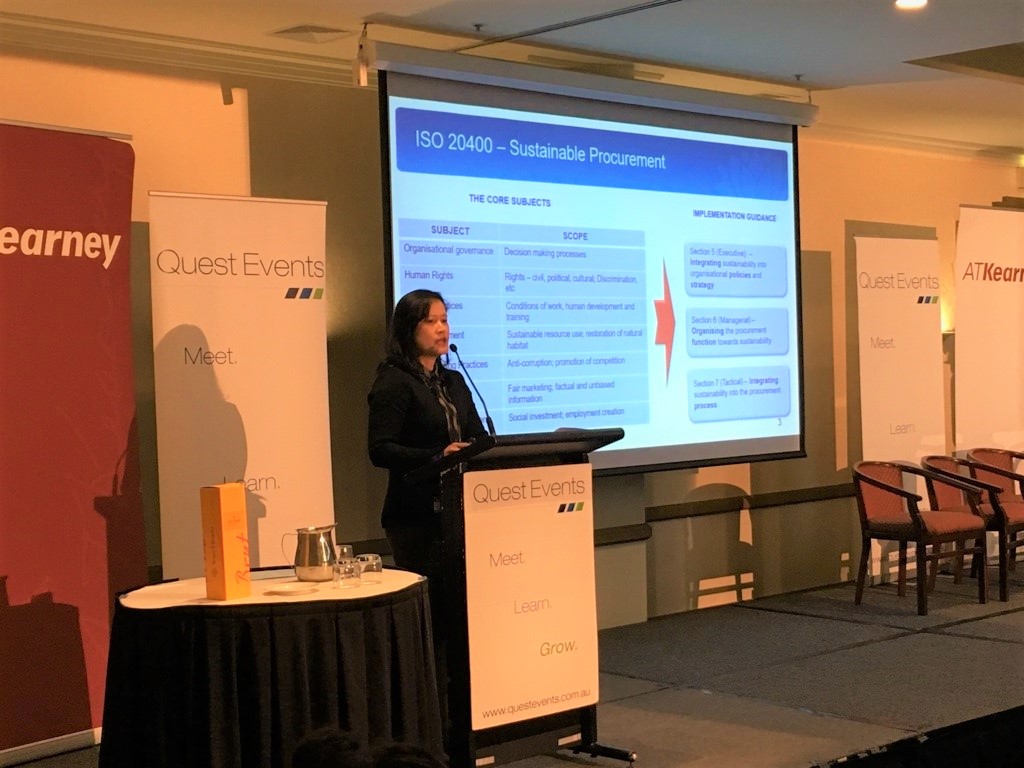 Philippines
Strategy Manager, Department of Finance, Services and Innovation, New South Wales, Australia
Master of Policy Science, GSPS Saitama University, (1998)
Global sustainable procurement standard addresses modern slavery in the supply chain, environment, and societal issues
Sustainable procurement standard ISO20400 has been developed by 52 countries.  Its purpose is to ensure that procurement of goods and services addresses the UN Sustainable Development Goals. Through its 7 core subjects, it addresses the most important issues about human rights, the environment, governance and societal issues. My role is to represent the Australian government procurement sector in its development, as we have the biggest collective expenditure for goods and services sourced around the globe many with vulnerable workers in poor working conditions. As a GRIPS Alumna I am educated to leverage government policies to resolve social issues and procurement is a key enabler for a bigger impact. Upon the launch of ISO20400 I dedicated my public sector career in its advocacy. I used my position in a central government procurement agency, NSW Procurement to influence and train public sector staff and our global suppliers through seminars, articles, and most importantly contribute to the NSW Procurement Policy Framework.  Most recently I actively participated in the public consultation for the NSW Modern Slavery Act. Now I am helping government Departments to ensure their procurement policies and processes are aligned with the UN Sustainable Development Goals.
As a result, the Australian government is majorly influencing the prioritization of the environment through circular procurement, addressing to end modern slavery in the supply chain and other human rights and labor issues in the production of goods, and helping to improve the economic conditions of our Aboriginal suppliers and indigenous communities. I am proud to see that in the State of NSW, the Small and Medium Enterprises and Regional Procurement Policy, and the Aboriginal Procurement Policy are aligned to ISO20400. My courage and capability to do these are due to the training I received from the GRIPS Program.
Read more
Close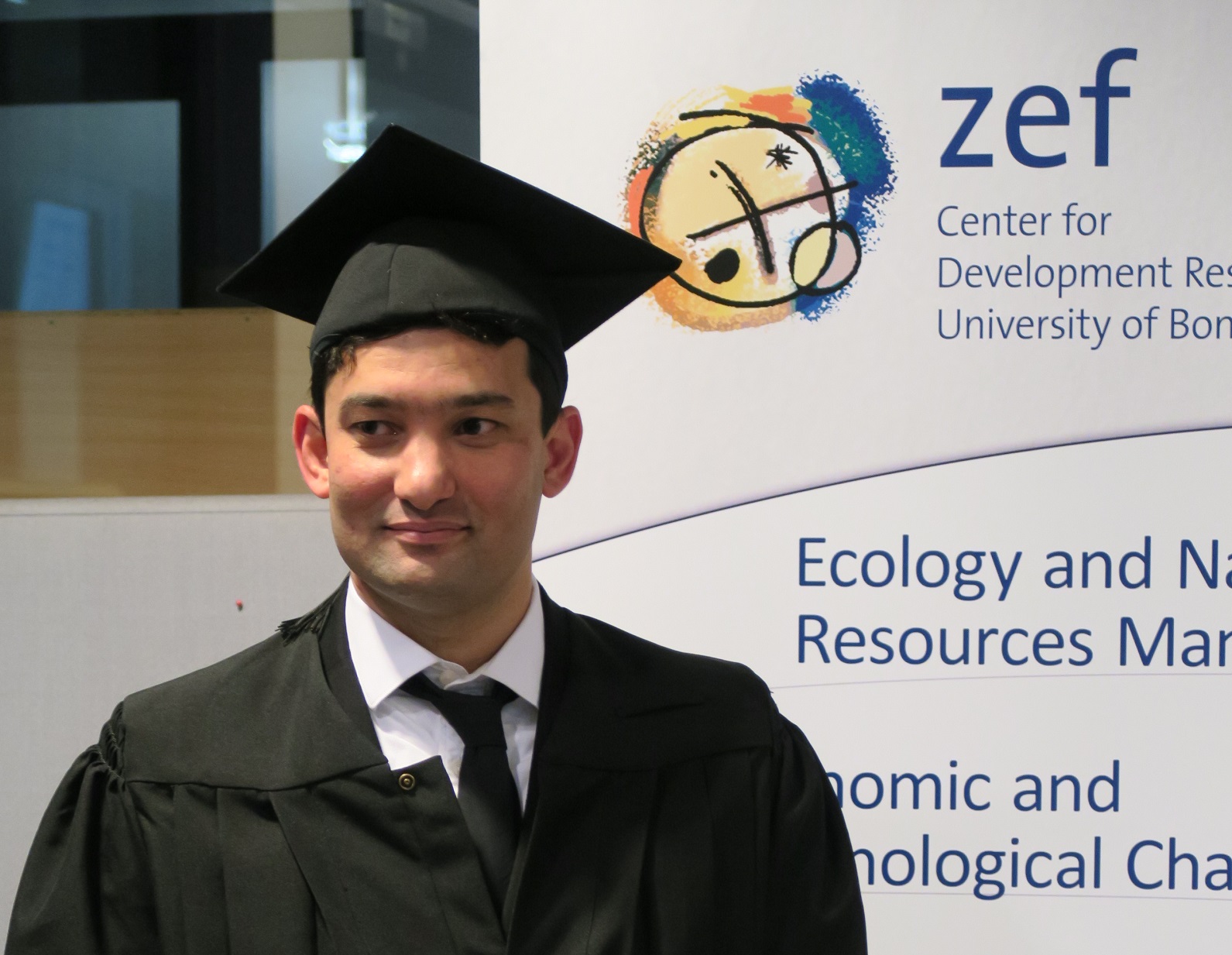 Uzbekistan
Senior Economist, Queensland Government Department of Agriculture and Fisheries, Australia
Transition Economy Program (2008)
Analysis of Fruit and Vegetable Supply, Demand, Diet Quality and Nutrition in Uzbekistan
The project includes my PhD work that I completed in 2017 at the Center for Development Research, University of Bonn. This PhD thesis identified challenges of horticulture production as well as determinants of fruit and vegetable consumption. In addition, this study analyzed diet quality via the dietary diversity concept to eventually aid in improving nutritional outcomes of the Uzbek population. The work was motivated by the need to provide evidence-based research findings to national decision-makers in the areas of agriculture, nutrition and health, thereby supporting them in implementing best policies.
My research outcomes have elicited a strong response from national authorities and international donor community. In particular, under a new political regime there has been liberalization of Uzbekistan's political and economic system, which positively resulted in horticulture sector. The most important economic reform since Shavkat Mirziyoyev succeeded Islam Karimov as president in 2016 was a three-year moratorium on inspections of horticulture businesses by meddling government officials.
The research findings were considered in formulating the new National Health and Nutrition Strategy 2020-2030 that is currently being drafted by the Ministry of Health in cooperation with WHO and UNICEF. I am particularly proud that my recommendations on a healthy diet might become the first nutrition policy per se to be implemented in Uzbekistan.
My research findings have helped raise awareness and attract new investments and foreign aid. For example, in January 2018, The World Bank approved additional $500 million funding to the Horticulture Development Project that seeks to improve access to financial services for farmers across Uzbekistan, and support the purchase of seeds and seedlings, water-saving irrigation, cold storage facilities and processing equipment. In June 2018, the ADB also approved $198 million in additional financing to scale up its support in enhancing horticulture value chain development in all 12 regions in Uzbekistan.
Read more
Close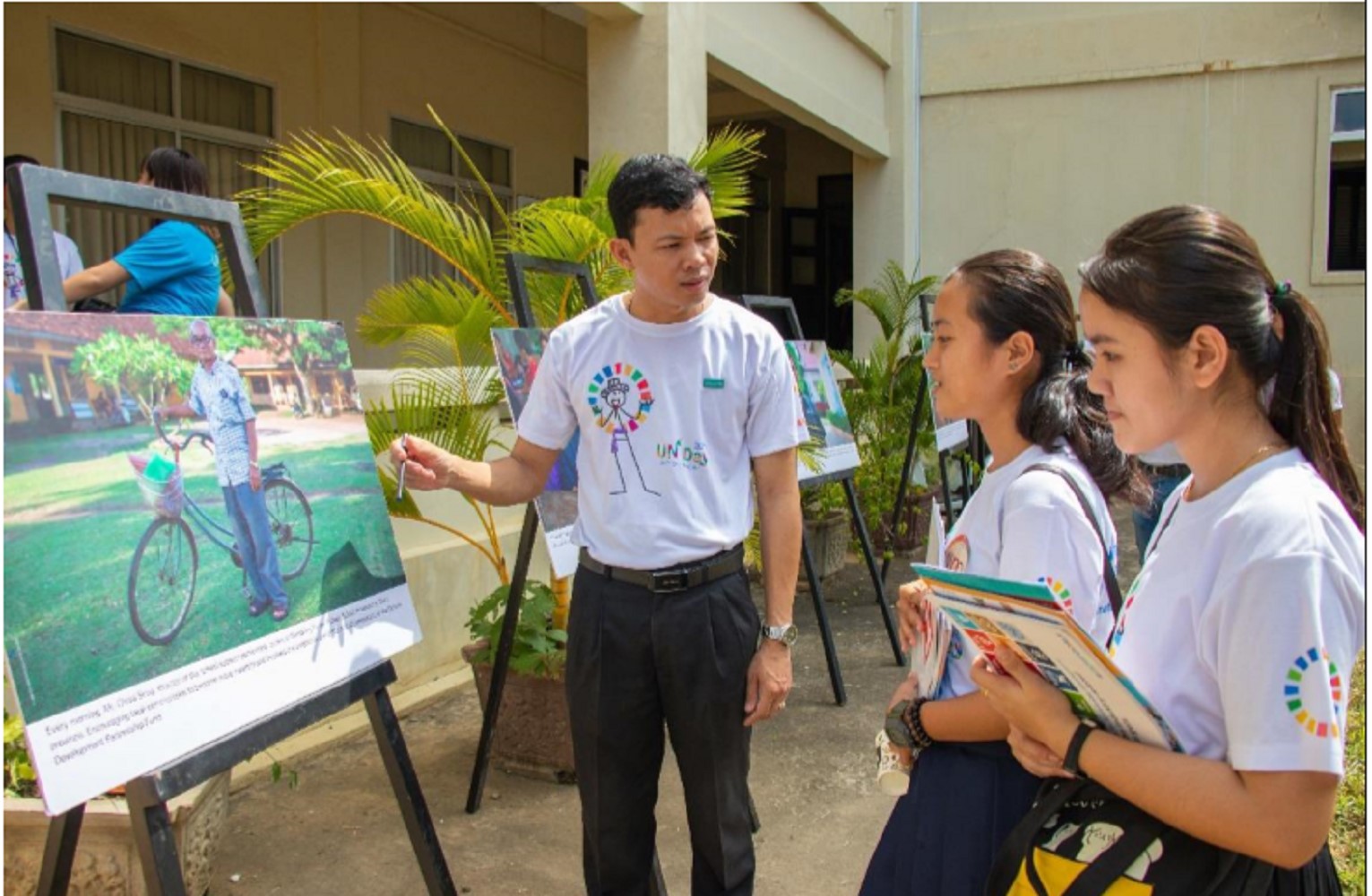 Cambodia
Education Officer, Education Sector Capacity Development Partnership Fund (CDPF), Cambodia
Public Policy Program, 2009
Capacity Development Partnership fund for Education Sector Reform (CDPF)
In recent years Cambodia has made substantial progress expanding access to, and participation in education, particularly at the primary education level. Despite this encouraging progress, several challenges remain, especially in the quality and relevance of education, high rates of grade repetition, and dropping out from school. Although the Ministry of Education, Youth and Sport (MoEYS) is proactive in addressing these issues, undertaking a comprehensive series of reforms, still some challenges remain.
To support MoEYS, the Capacity Development Partnership Fund (CDPF) was established in 2011 as a partnership between the Royal Government of Cambodia, UNICEF, the European Union (EU); the Swedish International Development Cooperation Agency (SIDA), The total budget for the previous CDPF two phases (2011-2017) was approximately US$ 30 million.. The new phase (Phase III: 2018- 2023) is being implemented with a total estimated budget of $34 million over six years. Global Partnership for Education (GPE) and USAID join as new partners under Phase III. The partnership aims to strengthen the education system to ensure that Cambodian children increasingly receive quality, inclusive and equitable education in more conducive learning environments. The overall objective of CDPF is "to enable effective leadership and management of the education sector at all levels through systematic capacity development thereby enabling implementation of the Education Strategic Plan (ESP 2014-2018" and ESP 2019-2021). Since, this program is a large portfolio, it covers nationwide, thousands of MoEYS officials gained management and leadership skill, promote gender equitable leadership, reduce gender parity in education and roughly a million of Cambodian children benefit from this program.
I am an Education officer of UNICEF, I act as a secretariat member of CDPF, and have roles as administrator of the fund includes planning, administration, contracting, procurement of services and supplies, management of the funds, monitoring and reporting to the CDPF Steering Committee. The CDPF Steering Committee is co-chaired by MoEYS, USAID, SIDA and the EU. As one of three other team members, I manage direct cash transfers (DCTs) and provide various technical supports to implementing partners (IPs) which are composed of 27 technical departments and institutions of MoEYS and in partnership with Volunteer Services Overseas (VSO) and CARE-International and Institutional contracts with UNISCO's IIEP, and Oxford for Policy Management (OPM).
I learnt that knowledge and skills that I obtained from GRIPS helps me a lot in my works, especially the skill sets on project cycle management and public policy analysis. I sincerely thanks to management of GRIPS, all support staff and professors.
Read more
Close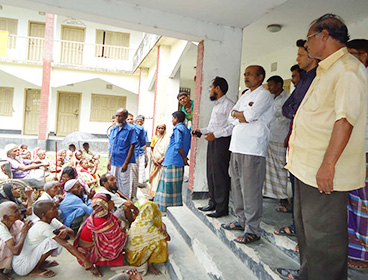 Bangladesh
Director, Bangladesh Public Administration Training Center (BPATC)
Public Policy Program (2010)
Kaizen Tea Garden Project to improve the lives of the disadvantaged

I have been conducting a number of Kaizen improvement projects in Bangladesh to improve the lives of the beggar class, ensure quality primary education, end child marriage, and extend the availability of public sanitation.
The Kaizen Tea Garden is a project aimed at improving quality of life in the Narail District. My team started it in 2015, when I was the Upazila Nirbahi Officer (UNO) under the Ministry of Public Administration. One of the key characteristics of upazila (districts) is high unemployment, resulting in a large number of poor people begging door to door. After the declaration of beggar-free upazila we have been creating employment opportunities for the beggars in many ways. In our upazila land we had a huge barren plot and decided to grow tea plants in an area of two hectares there. Rehabilitated beggars receive a daily wage for taking care of the plants in the Kaizen Tea Garden. This is the first Kaizen tea garden in the district and people come from far and away to see it. Following our project as an example, some rich people have also started creating tea gardens. I think this project will create more employment and accelerate economic and financial activities. We are well on the way to drastically reducing poverty and achieving the relevant SDGs.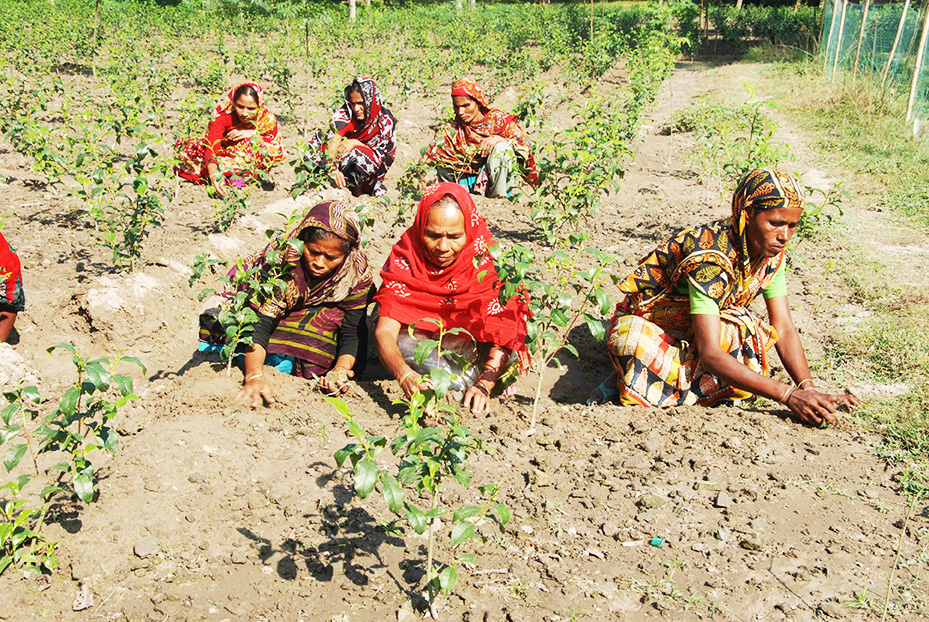 The Kaizen Tea Garden has been gaining in profitability, and in 2017 the project received a Public Administration Award from the government of Bangladesh.
Read more
Close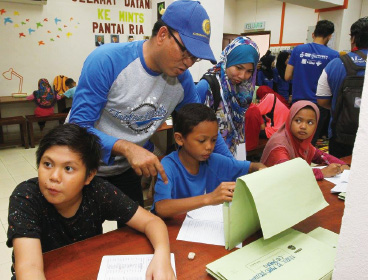 Malaysia
Deputy Secretary General (Strategic)
Ministry of Women, Family and Community Development
Public Policy Program (1999)
Oversees strategies to promote active social participation by women, children and the elderly
As Deputy Secretary General in the Ministry of Women, Family and Community Development, I am responsible for strategic targetting of support for groups such as women, children, disabled people, the elderly, disaster victims, and the poor—and the family institution as well. My duties include formulation and review of related policies, creation of guidelines, and the design of action plans. Specifically, my responsibilities include work towards the following objectives :
① to increase participation in active roles by women, families and communities as contributors to and beneficiaries of the country's development;
② to ensure the rights of women, families and communities fairly and impartially, without discrimination;
③ to extend equal opportunities to women and throughout society in the social, economic and political arenas; and to strengthen the family as an institution.
The near future will be more challenging because budget rationalization will shift the focus towards a transformation agenda and strategic collaboration with various parties in addition to government agencies: parties such as community-based organizations and private sector actors. This will be the end of some entrenched practices, so a lot of creative solutions and initiatives need to be introduced. There is also a need to realign the mindset of government officers and communities needs in accordance with the transformation plans, for example the plan to shift from a welfare state to a more productive state in accordance with the sustainable development goals of the nation.
GRIPS provided me an opportunity to explore diversified practices that could be used as a model for other countries to excel in the implementation of good government policies. Thanks to this, my level of competency has increased tremendously.
Read more
Close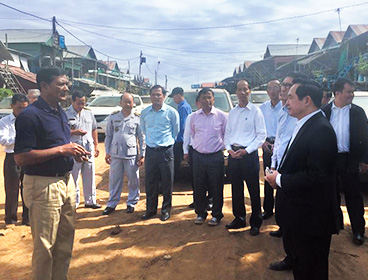 Cambodia
Secretary General
Tonle Sap Authority, Ministry of Water Resources and Meteorology
Public Policy Program (2003)
Sustainable Management, Protection, and Development of the Tonle Sap Basin

When I was working for the Tonle Sap Basin Authority (TSBA) under the Council of Ministers, I was appointed as Director of the Planning and Cooperation Department in charge of conservation and development of the Tonle Sap Basin region. In 2009, as part of a broader public administration reform, the Tonle Sap Basin Authority, renamed the Tonle Sap Authority, was brought under direction of the Ministry of Water Resources and Meteorology. During that period of change, I became to the Secretary General of the Tonle Sap Authority in 2013.
My main responsibilities and duties are overseeing the daily work of the Authority, and directing its coordination, communication and cooperation with the various ministries, institutions, local authorities, national and international organizations, NGOs, and civil society to ensure the sustainable management, conservation, and development of the Tonle Sap area. This has been largely a matter of learning by doing: now I am beginning to understand the main prospects for Cambodia over the next decade. In recent years Cambodia's economic growth has been one of the fastest among Asia's developing economies, driven by vibrant garment exports, real estate development, and construction activity. Looking ahead, further regional integration among the ASEAN countries and Asia Pacific countries will provide opportunities for the further expansion of exports, integration into global supply chains, and diversification and promotion of development in many sectors including security, culture and tourism.
Even though the next five to ten years will bring Cambodia many development opportunities, the country will still face some challenging issues, notably the growing development gap between rural and urban areas, political conflicts resulting from ongoing regional border disputes, and the effects of climate change caused by the exploitation of natural resources. This will call for high-level decision making on my part, and once again I am grateful for the training and education I received at GRIPS.
Read more
Close