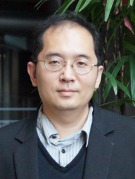 | | |
| --- | --- |
| Position | Professor |
| Degree | D.Phil. in Science and Technology Policy Studies, SPRU, University of Sussex |
| Specialty | Innovation Policy and Innovation Systems in Developing Countries |
| Current Research Interests | Economics of Innovation, Innovation Policies |
Prof. Patarapong is now at National Graduate Research Institute for Policy Studies (GRIPS) in Tokyo, Japan. He is teaching Master and Ph.D. programs and conducting research in the area of economics of innovation and innovation policies. He received B.A. degree in Economics (English Programme) from Thammasat University, Thailand in 1993 with first class honour, the M.Phil. degree in Economics and Politics of Development from Cambridge University, UK in 1994, and D.Phil. degree in Science and Technology Policy Studies from Science Policy Research Unit (SPRU), University of Sussex, UK in 2000.
He is the Editor-in-Chief of an SSCI-indexed Asian Journal of Technology Innovation and a member of international editorial boards of International Journal of Technology and Globalisation,, Innovation and Development Journal, and African Journal of Science, Technology, Innovation and Development. His research interests include national innovation systems in Thailand and newly-industrialising countries in Asia, industrial and knowledge-based clusters, Technological capabilities and evolution of latecomer firms, financial incentives for enhancing innovation capabilities and competitiveness, and roles of Research Technology Organisations (RTOs) in industrial clusters and national innovation systems.
He is a founding member of Asian Network for the Economics of Learning, Innovation, and Competence Building Systems (ASIALICS) which is an Asian chapter of Global Network for the Economics of Learning, Innovation, and Competence Building Systems (GLOBELICS). He was an advisor and a consultant projects in research projects commissioned by the World Bank, UNESCO, UNIDO, UNCTAD, OECD, German Development Institute (GDI), JICA, International Development Research Center of Canada (IDRC) and Economic Research Institute of ASEAN and East Asia (ERIA).
He was a visiting research fellow at Centre of Southeast Asian Studies (CSEAS), Kyoto University, Japan in the year 2009.
e-mail: pataraponggrips.ac.jp