Statesmen's Program
2009.8.9
The 8th Asian Statesmen's Forum was held in Bogor, Indonesia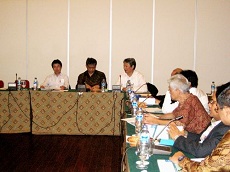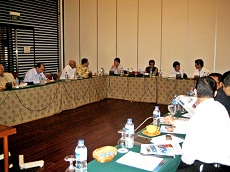 The eighth Asian Statesmen's Forum was held during August 9-10, 2009 in Bogor, Indonesia.
The Asian Statesmen's Forum was launched in 2000 as an initiative to provide an opportunity for informal dialogue among young political leaders of Japan & ASEAN countries, through which political, diplomatic, economic and cultural understanding as well as friendship will be mutually promoted.  It is intended to play an informal but significant role in adding to shared understanding and political consensus between Japan and ASEAN countries, eventually contributing to ensure the stability and continued development of the region.
The idea for such an informal Forum was first brought up by Dr. Surin Pitsuwan, Secretary-General of ASEAN Secretariat, Mr. Yoshimasa Hayashi, a member of the House of Councilors of Japan, Mr. Yasuhisa Shozaki, also a member of the House of Councilors of Japan and Mr. Keizo Takemi, former member of the House of Councilors.  The first Forum was held in Tokyo, Japan in November 2000.  Since then it has continued to be held approximately once a year, hosted by each member in turn, most recently in August 2008 in Bogor, Indonesia.  GRIPS, where Professor Shiraishi who is a member of the Forum currently holds the post of Vice President, took over the role of Secretariat from Asia-Pacific Energy Forum (APEF) and Asia SEED since this eighth Forum.
The following agendas were discussed at this forum: "Energy issues (gas, oil, nuclear)", "Education, human resources development issues", "Economic Collaboration in East Asia", "Regional development & nurturing of core cities following economic globalization" and "Political outlook in Asia".