News Archives
2018.11.16
Leading in Complexity: National Security Senior Executive Development Program – Japan Module ANU National Security College (NSC)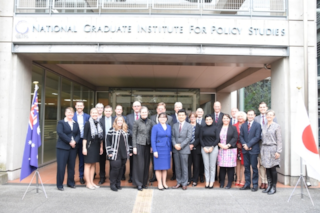 From November 14 to 16, 2018, GRIPS conducted a three-day training program for National Security College, Australia National University for the first time. Twenty senior officials including have attended the program with Prof. Medcalf and executive staff of NSC.
Program was kicked off with the orientation given by Prof. Narushige Michishita, Executive Advisor to the President of GRIPS and continued with lectures and discussions with experts of national security and international relation issues from government and academia.
At GRIPS, Joint Presentation was given by Prof. Akihiko Tanaka (President) and Prof. Rory Medcalf (Head, ANU National Security College) on "Japan's Perspectives on Free and Open Indo-Pacific". Other lectures were given by Prof. Narushige Michishita on Indo-Pacific hotspots" and "Myths and Reality of Japan's Security Policy, Prof. Hideshi Tokuchi, GRIPS Senior Fellow on "Japan's security challenges in the Indo-Pacific context", Mr. Yoji Koda, retired vice admiral in Japan's navy on "US-Japan Alliance in the Indo-Pacific Strategy", Prof. Keiichi Tsunekawa, GRIPS on "Economic and Developmental Dimension of Japan's Free and Open Indo-Pacific Initiative", Chikako Kawakatsu Ueki, Ph.D. (Professor of International Relations Graduate School of Asia-Pacific Studies Waseda University) and Mr. Hiroyuki Akita (Nikkei Asian Review) on "Contemporary Japanese politics, and implications for Japan's regional role", Ms. Rui Matsukawa (Member of the House of Councilors; Liberal Democratic Party member) on "Japan's Strategic Interests in the Indo-Pacific".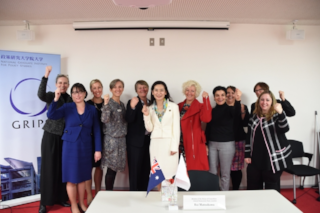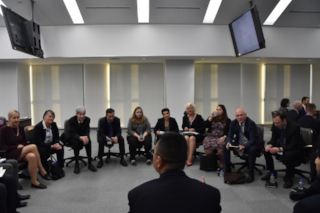 Participants also had a chance to meet with Mr. Katsunobu Kanehara (Assistant Chief Cabinet Secretary, Deputy Secretary-General of National Security Secretariat) at the lunch seminar during this course.
With the cooperation of The National Institute for Defense Studies (NIDS) in Tokyo, participants were delivered a briefing on current situation of Indo Pacific and relationship between Japan, China and Russia, by Mr. Masayuki Masuda and Mr. Hiroshi Yamazoe. The participants also exchanged views and opinions with the students of NIDS on each own current issues.
On the final day of the training program, they had a wrap-up session with Prof. Michishita to review what they had learnt and proposed the possible areas of mutual cooperation and issues to be discussed in the future.