Latest News
2019.6.25
Launch of Water-related Disaster Risk Reduction Principles – President Tanaka attends Fourth UN Special Thematic Session on Water and Disasters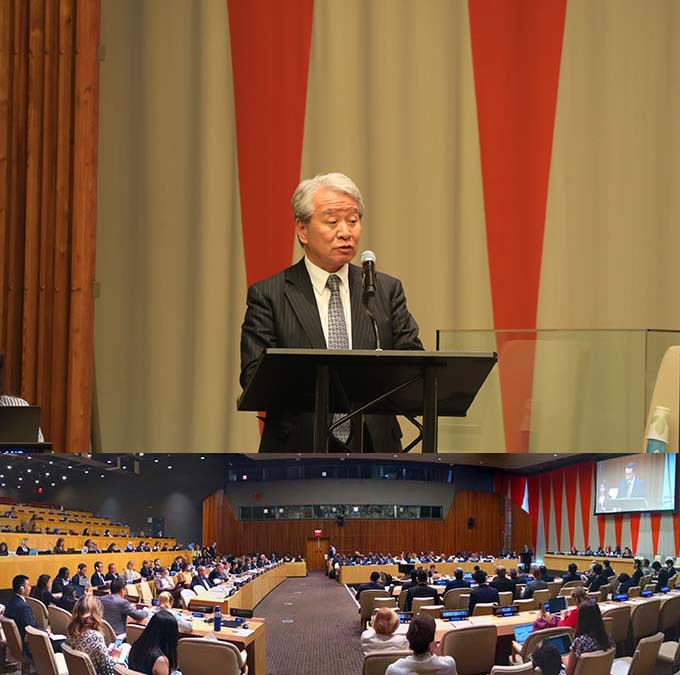 On June 24, 2019 GRIPS President Akihiko Tanaka and Professor Kenzo Hiroki, coordinator of the High-Level Panel on Water and Disasters (HELP), visited New York to attend the Fourth UN Special Session on Water and Disasters, held at UN Headquarters.
At the meeting, discussion centered around means of enhancing international awareness of water disaster control measures; sharing experiences and knowledge; and promoting international cooperation in order towards climate change adaption and the achievement of international water-related goals such as the SDGs.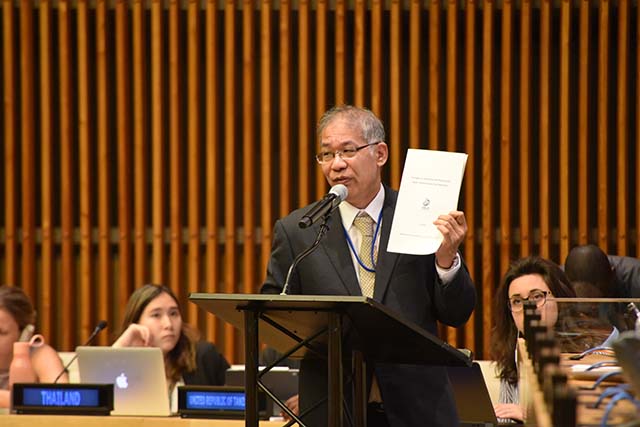 The meeting featured the announcement of two publications: the "Global Report on Water and Disasters 2018″ jointly compiled by HELP and GRIPS, reflecting the lessons learned from global water disasters in 2018; and the "Principles for Financing and Investment on Water-related Disaster Risk Reduction" (for which GRIPS spearheaded the policy-making process), aimed at promoting proactive investment in disaster risk reduction and the enhancement of preventive disaster risk reduction.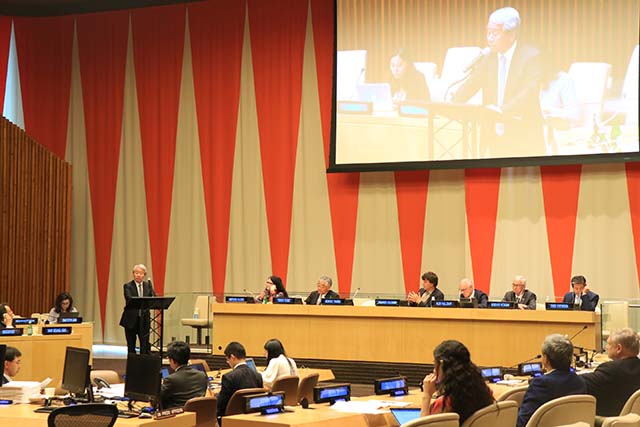 In the afternoon, President Tanaka gave a speech at the "Science and Technology Session to Address Water and Disasters" session and proposed that, "As the effects of climate change have spread, the water disaster problem has intensified and become more serious worldwide. Since water disasters are caused by a combination of natural phenomena and societal behaviors, research and education through interdisciplinary cooperation combining natural and social sciences, especially in crisis management, should be promoted and actively applied to the field." That comment received strong positive reactions from the audience.
On the following day, May 25, President Tanaka and Professor Hiroki attended the Thirteenth Meeting of the High-level Experts and Leaders Panel on Water and Disasters (HELP), also held in New York City.