Events Information
2020.12.14[Mon]
Japan's Future Security and Challenges Thereof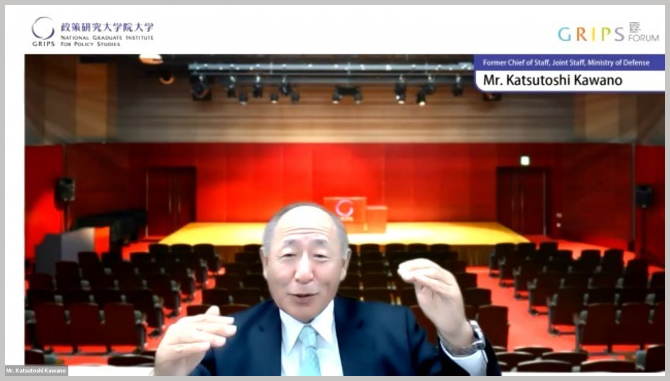 At GRIPS Forum on 14 December, 2020, Mr. Katsutoshi Kawano, Former Chief of Staff, Joint Staff, Ministry of Defense, gave a lecture titled "Japan's Future Security and Challenges Thereof".
Abstract:
Since the latter half of the 1970s, China has pursued a path of "reform and liberalization" under Deng Xiaoping, and has achieved economic development. Along with this, China has promoted the strengthening of its naval power, and has sought maritime expansion. However, negotiations between the U.S. and North Korea have hit a snag due to North Korea's missile launches, with North Korea not only refusing to surrender its nuclear weapons and missiles, but aiming to improve their capabilities. In light of this difficult security situation surrounding Japan, the proper stance for Japan's defense in the future will be discussed.
Speaker:  Mr. Katsutoshi Kawano, Former Chief of Staff, Joint Staff, Ministry of Defense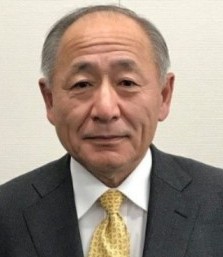 Speaker's Profile:
Graduated from National Defense Academy with bachelor's degree in Mechanical Engineering in 1977, earned master's degree in International Relations from Tsukuba University in 1990.
Entered Maritime Self-Defense Force in 1977 and had assignments aboard JS Haruna and JS Shirane, and was Commanding Officer of JS Oyodo from 1992.
After this, served as Commander of Escort Flotilla 3, Director-General of Maritime Staff Office, Director of Defense, etc. After serving as Commander of Fleet Escort Force and Commander in Chief of Self-Defense Fleet, became Chief of Staff of Japan Maritime Self-Defense Force in 2012.
Became 5th Chief of Staff, Joint Staff in October, 2014. Highly trusted by the Prime Minister, extended tenure three times until retirement on April 1, 2019.
| | |
| --- | --- |
| Date / Time | 2020.12.14/16:40~18:10 |
| Speaker | Mr. Katsutoshi Kawano, Former Chief of Staff, Joint Staff, Ministry of Defense. |
| Title | Japan's Future Security and Challenges Thereof |
| Venue | Online (Zoom Webinar) |
| Fee | Free (Pre-registration is required) |
| Language | Japanese (English simultaneous interpretation provided) |